The Japan International Cooperation Agency (JICA) is eyeing new cooperation projects with the Department of Agriculture (DA) to boost the Philippines' Food Value Chain (FVC), grow the agriculture sector, and support the Filipino farmers.
The announcement came at the heels of the recent Issue Analysis Workshop of the Philippines' FVC where JICA, its consultants from Pricewaterhouse Coopers, and stakeholders from the Department of Agriculture (DA), Department of Trade and Industry (DTI), Department of Science and Technology (DOST), private sector, non-profit and donor organizations in the Philippines discussed issues and challenges affecting FVC.
The Philippine agriculture sector accounts for 9.7% of the economy in 2017 and employs more than 10 million workers (Philippine Statistics Authority data, 2017). JICA's support is part of the bilateral aid agency's cooperation with the Philippines to help vulnerable sectors rise from poverty and other development challenges.
"Our support to the Philippines' FVC is part of Japan's commitment to Philippines' sustainable development under the Philippine Development Plan (PDP). We are partnering with the DA so we can contribute to improving the lives of the Filipino farmers," said Ayumu Ohshima, JICA Senior Representative. Said area is also part of the agreement between Japan and the Philippine Government during the 2nd Philippine-Japan Dialogue on Agriculture Cooperation in 2017.
At present, JICA is conducting a survey that will identify areas where JICA and DA can work together, including production, processing, distribution, and marketing of Philippine agriculture products. Initial findings from the survey have pointed to certain roadblocks in the sector that need to be addressed. JICA's future technical cooperation with DA can therefore include improving productivity, reducing food waste, and improving food security in the country.
Already, the private sector including conglomerates and start-ups have been introducing smart farming innovations to boost the agriculture sector in the Philippines through vertical farming, organic farming, farm management technology, and other climate-smart practices.
In the Philippines, vegetable production has grown at 2.7% from 2000 to 2010, and is mostly concentrated in the Cordillera Autonomous Region (CAR). CAR supplies 75 to 80% of Metro Manila's demand of highland vegetables, while other production areas are concentrated in Cebu, and Negros Oriental in Central Visayas, Bukidnon in Northern Mindanao, and Davao City and Davao del Sur in Davao Region. Lowland vegetables, meantime, come from provinces such as Quezon, Laguna, Pangasinan, La Union, and Bulacan.
Since the 1960s, JICA has supported the Philippine agriculture sector through quality seed production and research, establishment of agriculture centers, fishing ports projects, irrigation facilities, agribusiness promotion, and new technology.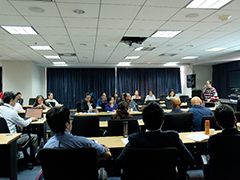 Stakeholders gathered at the JICA Philippine Office to discuss possible interventions to key issues faced by different nodes of the Philippine Food Value Chain.