Officials from the local government of Davao City and Department of Public Works and Highways (DPWH) visited Japan recently to study flood control model and practices in Japan that can be applied locally.
The visit is part of an ongoing development cooperation with the Japan International Cooperation Agency (JICA) called Masterplan and Feasibility Study on Flood Control and Drainage in Davao City. The delegation from Davao visited Kobe, Osaka, Tsukuba, and Tokyo and met with key Japanese institutions in charge of flood control management.
"The study visit is an opportunity for planning officers and local officials in Davao City to study flood control structures like retarding basin that significantly addressed Japan's own flood problems," said JICA Philippines Senior Representative Ayumu Ohshima. "As a trusted development partner of the Philippines since the 1960s, supporting the country's disaster resiliency efforts contribute greatly to saving lives and mitigating economic losses from natural disasters."
To date, damage from disasters in the Philippines between 2011 and 2018 amounted to some P388 billion, with recovery and rebuilding one and a half times the said amount, a report from the National Economic and Development Authority (NEDA) showed.
In Davao, Typhoon Vinta that hit the city in 2017 caused major damage in their tributaries and the City of Davao and DPWH sought JICA's assistance towards preparing a masterplan and building the capacity of local engineers.
The Philippine participants met with the Neyagawa River Basin Flood Control Office in Osaka Prefecture where retarding basin and rive channel improvement projects were implemented as countermeasures against flooding. Retarding basin is a practice in Japan where storm water is stored around embankment walls to reduce flood risks to local homes and businesses. The structure also serves as a park or playground during normal times. Japan's rivers are usually short and steep. During heavy rains, downstream flooding is likely and the retarding basin structure has so far played a role in their disaster management practices.
In the Philippines, retarding basin is already being implemented in Cavite, specifically in Imus and Bacoor under the Flood Risk Management Project for Cagayan, Tagoloan, and Imus Rivers. Meanwhile, DPWH, through their own budget, is also implementing retarding basins in General Trias, following JICA's design.
The Osaka Prefecture also works with other cities in terms of sharing flood-related information for residents' timely evacuation. They also have an information network on disaster prevention through mobile phones.
"We learned that a combination of hard (infrastructure) and soft measures (education campaign, flood drills) is important to mitigate flood disasters. Japan's centralized river information system also helped improve information sharing between government and the public," said Engineer Newton Apao of DPWH District Office in Davao.
Aside from studying Japan's retarding basin model, the participants also went to see Kobe City's river renovation projects. Kobe, located in Osaka, experienced major flooding in the 1930s and 1960s due to their river's water discharge capacity. Since then, the local government implemented erosion control and river management projects as part of their urban planning priorities. They also studied Tokyo's policies on rain measures and connecting rivers with existing sewerages to reduce flood damage.
Likewise, the study visit included visits to disaster management institutions in Japan, namely Foundation of River and Basin Integrated Communication (FRICS), International Center for Water Hazard and Risk Management (ICHARM), and National Institute for Land and Infrastructure Management (NILIM) to study new technology and innovation in flood control.
JICA, the world's largest bilateral aid agency, has been supporting flood control management in the Philippines since the 1970s through a flood forecasting and warning system and capacity building on disaster preparedness with the country's frontline disaster management agencies.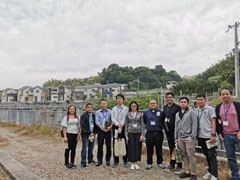 Officials from Davao City-LGU, DPWH, and JICA at the Shioyatani river sediment basin in Kobe City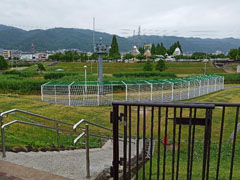 The Hanazono Retading Basin spans 14 hectares and can store 320,000 cubic meters of flood water
Data Source: https://businessmirror.com.ph/2018/10/16/disasters-cost-phl-p389-billion-recovery-at-p560-billion/