In a move to strengthen their partnership for quality railway infrastructure, the Japan International Cooperation Agency (JICA) recently joined the Department of Transportation (DOTr) led by Secretary Arthur P. Tugade and other railway stakeholders in the Philippines for the monitoring and inspection of the government's priority rail projects.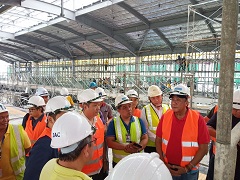 Photo shows Secretary Tugade and JICA Chief Representative Yoshio Wada at the Emerald Station of the Light Rail Transit (LRT) Line 2 East Extension Project. Also present in the activity were officials from the Philippine National Railway (PNR), Metro Rail Transit (MRT) Line 3, and Light Rail Transit Authority (LRTA).
"JICA is committed to support the Philippine Government in promoting quality life for all Filipinos through the development of mass transportation system. Sufficient coordination and unity of purpose can contribute to the success of these massive projects, and JICA believes that joint monitoring efforts such as this can help all of us get closer to our goals," said JICA Chief Representative Yoshio Wada during the activity.
In the same event, the DOTr also led a progress briefing of the JICA-assisted North-South Commuter Railway (NSCR) Project (Tutuban-Malolos segment) and MRT Line 3 Rehabilitation Project. The construction of the NSCR Balagtas to Malolos, Bulacan segment is currently ongoing, as well as the rehabilitation of the Baclaran Depot under the LRT Line 1 South (Cavite) Extension Project, for which delivery of the first train set is expected in August 2020. Meanwhile, the installation of the electromechanical system of the LRT Line 2 East Extension Project is already ongoing. The briefing was followed by physical inspection of other ongoing railway projects.
JICA is supporting the government's priority railway projects, including the country's first Metro Manila Subway, with total Official Development Assistance (ODA) loan commitment amounting to JPY595-billion. The Japanese bilateral aid agency is also supporting the creation of the country's Philippine Railway Institute (PRI) that will serve as training center of railway operators in the Philippines. Said railway projects form part of the transport interventions identified in the JICA 2014 study Roadmap for Transport Infrastructure Development for Metro Manila adopted by the Philippine government.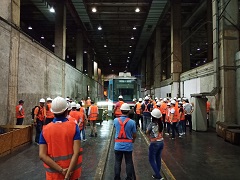 Officials from JICA, DOTr, MRT Line 3,, and other organizations at the MRT Line 3 depot