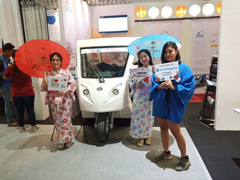 The JICA booth at the International Linkages Cluster in the NSTW Exhibit
Known for their leadership in shaping the world's technology and innovation landscape, Japan's recent research and innovations from Japanese small and medium enterprises (SMEs) under the Japan International Cooperation Agency (JICA) projects are displayed this week at the National Science and Technology Week (NSTW) of the Department of Science and Technology (DOST).
JICA, Japan's bilateral aid agency, implements Japan's Official Development Assistance (ODA) to the Philippines and is sharing examples on development projects that impact on environment, health, and disaster risk reduction management. Among those featured is JICA's Partnership Program with the Private Sector where innovations from Japanese SMEs are implemented in various development areas. Example of this on the exhibit is an electric tricycle that Japanese company BEMAC-Uzushio Electric Co. piloted in Quezon City. Said electric vehicle is one of the 20 being piloted by JICA's cooperation and seen to reduce carbon dioxide emissions by 50-71% and other air pollutants by 57-75%. It also uses a power control unit from Japan for quality maintenance and conditions. To date, the electric tricycle is also being promoted in Boracay Island to promote sustainable tourism. In Boracay, the e-trikes are being charged by a technology called "Renergy system" from another Japanese SME. The system utilizes waste cooking oil to generate electricity.
Also featured in the exhibit is the JICA Science and Technology Research Partnership for Sustainable Development or SATREPS where Japanese and Philippine universities work together to research on global issues such as environment, health, and disaster management. Some of these projects include studies on conservation of blue carbon in Philippine marine ecosystems, leptospirosis control, and extreme weather monitoring to name a few.
"For more than six decades, JICA has been contributing to the Philippines' sustainable development by sharing Japan's experience and technology to address some of its pressing socioeconomic problems," said JICA Philippines Chief Representative Yoshio Wada. "We are committed to work hand in hand with government institutions like the DOST to help the Philippines leverage on Japanese technology for development."
Mr. Wada will also speak about JICA's experience working with the Philippines on building disaster resiliency at the NSTW Conference on Cracking the Code for Sustainable Development during the exhibit on 18 July.
This year, DOST recognized JICA as Development Aid Partner Awardee for Science, Technology, and Innovation. Most recently, the Japanese bilateral aid agency has been working with DOST-Advanced Science and Technology Institute (ASTI) for an extreme weather monitoring project that seeks to establish a lightning detection network using automatic lightning and weather monitoring system and the Philippines' first microsatellite DIWATA-1.