Three young Japanese volunteers are helping raise disaster management skills of vulnerable areas in Aklan, Negros Oriental, and Albay underscoring the role of trainings and education to build the Philippines' disaster resiliency efforts.
The World Risk Index Report in 2018 mentioned the Philippines along with Vanuatu, Solomon Islands, and Brunei as among the island nations with high risk in terms of natural disasters.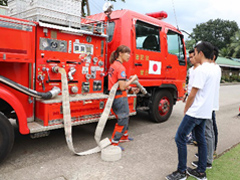 JICA Volunteer Natsuko Kitamura demonstrates how to operate the fire truck
To help build the country's disaster management capacity, young Japanese volunteers dispatched in the Philippines hold trainings and share Japanese technology and know-how on disaster management under the Japan International Cooperation Agency (JICA) Volunteer Program.
"The Philippines has many disasters like earthquakes, tsunami, floods, and typhoons like Japan. I am training local government members on basic emergency response and operations using ambulance and fire trucks," said Japanese volunteer Natsuko Kitamura who worked in Negros Oriental.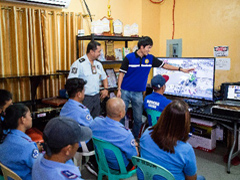 Kazuyoshi Naito with LDRRMO staff in an emergency operations center in Aklan
Meanwhile, another Japanese volunteer Kazuyoshi Naito helped the local government in developing a manual for their emergency operations center, and trained personnel in the Disaster Risk Reduction and Management Office (DRRMO) on basic life support, and rope and water rescue.
Terence June Toriano, from a local DRRMO (LDRRMO) in Aklan, said they learned from Naito "the importance of establishing a system in their tactical emergency operations center." Said center acts as a command center of the municipality in case of disasters and hosts the town's Closed Circuit Television (CCTV) system for DRR monitoring and security, among others.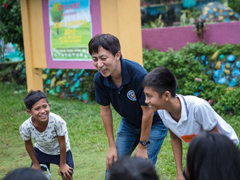 Naoaki Tsunoda shares his knowledge on DRR with students in Albay
Aside from trainings, Japanese volunteers are also supporting disaster education in schools and communities in vulnerable places like Albay. "As a JICA volunteer, I organize activities on disaster education in schools and barangays together with the local government. I also teach students how to prepare emergency kit using local materials," said Japanese volunteer Naoaki Tsunoda.
Local Disaster Risk Reduction and Management Officer Manuel Damo said, "We are constantly exposed to a number of natural and man-made hazards, like storm surges, landslides, and rise of sea level in coastal communities. We get support from the Japanese volunteer in terms of disaster preparedness and prevention." Tsunoda holds DRR seminars in schools, hazard mapping activities, and emergency drills with schools and communities as part of his technical assistance in DRR.
As of April 2019, JICA has dispatched 1,662 Japanese volunteers in the Philippines to support disaster management, agriculture, planning, healthcare, human resources, social welfare, manufacturing, and tourism among others. The volunteer program is a component of the Japanese bilateral aid agency's Official Development Assistance (ODA) to partner countries, providing technical assistance and promoting goodwill and international understanding between Japan and countries like the Philippines.