Two state universities in the Philippines in Cebu and in Cavite are receiving technical assistance from senior Japanese volunteers under the Japan International Cooperation Agency (JICA) Volunteer Program to help boost the employability of students after graduation.
Japanese volunteer Yoshiyuki Habuka is introducing an ICT innovation laboratory in Cebu Technological University (CTU) to train faculty and students on the so-called Internet of Things (IOT) or embedding internet technology in different forms of hardware. "My activities include assisting the CTU establish an innovation laboratory where students or even residents in barangays can attend online classes, and eventually get hired for jobs," said Habuka.
In Japan, Habuka manages a company that manufactures energy storage systems and solar panels. "By training the students in hardware and IOT, they can develop skills and increase their chances of getting employed." The firm was part of the JICA Private Sector Partnership Program where Japanese private sector works with JICA to explore networks and business in developing countries to address social problems.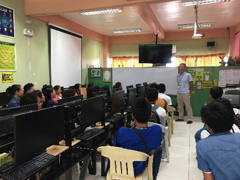 Senior Japanese volunteer Yoshiyuki Habuka lectures at a project management class in CTU
A study of the International Labour Organization (ILO) and Employers Confederation of the Philippines (ECOP) in 2016 cited need for training students on hard or technical skills to meet the demand for skilled, qualified, and competent workers in sectors like manufacturing, electronics, and tourism among others. Thus, training students on certain skill sets to match the industry's needs will help address said gap.
"If we also teach students skills in operations and maintenance, there's much potential to have them employed in companies that are producing sustainable energy solutions," added Habuka.
Meanwhile, Japanese volunteer Takejiro Ikeda is assisting faculty and students in Cavite State University (CSU) on the proper operations and maintenance of industrial machines for metal works. "Students need exposure or immersion on what happens in industrial workplaces. I'm sharing my knowledge on the industry so they can improve their curriculum and teaching methods," said Ikeda.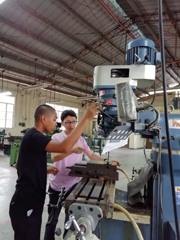 An industrial technology student from CSU learns how to operate machine tools from JICA Senior Volunteer Takejiro Ikeda (right)
Prior to volunteering in the Philippines, Ikeda has been working in an industrial company in Japan performing metal works for products like automated teller machines. "Our company wants to establish a branch in the Philippines and we'd like to build relationships with universities and trade schools here so their students can eventually explore getting employed in Japanese companies like ours," added Ikeda.
The potential of Cebu and Cavite for human resources in ICT and manufacturing industries is relatively strong. Cebu is one of the Philippines' ICT hubs, while Cavite is home to one of the country's robust economic zones with over 300 exporting or manufacturing companies operating in the zone (data source: peza.gov.ph). With technical assistance from the Japanese volunteers, students from said state universities can explore job opportunities in their areas.
As of April 2019, JICA has dispatched 1,662 Japanese volunteers in the Philippines to support disaster management, agriculture, planning, healthcare, human resources, social welfare, manufacturing, and tourism among others. The volunteer program is a component of Japan's Official Development Assistance (ODA) to partner countries, providing technical assistance and promoting goodwill and international understanding between Japan and countries like the Philippines.