As the people of Northern Luzon look back this month on the devastating July 16 earthquake 29 years ago, a Filipino from La Trinidad, Benguet who trained in Japan on disaster management is determined to share his Japan experience in Northern Luzon as countermeasure against future disasters.
Yoshio P. Labi, a disaster risk reduction management officer in La Trinidad, completed a training course on Disaster Management for Landslide and Sediment-Related Disasters under the Knowledge Co-Creation Program (KCCP) of the Japan International Cooperation Agency (JICA) in the Philippines. Said training aims to introduce participants on Japan's practices, and technology on disasters related to heavy rainfall, volcanic activities, and earthquakes. Participants like Labi participated in symposiums on countermeasures using new technology and measures in Toyoma, Japan. They also visited areas in Japan using sabo (a Japanese term for debris and sediment control works) technology.
"In Japan, I learned the value of risk analysis and looking at historical data to guide decisions, especially in cases of disasters," said Labi. Under the training, participants also attended lectures on disaster response, and warning and evacuation planning from Japanese experts.
Following the training, the local Government of La Trinidad through its Municipal Disaster Risk Reduction and Management Council will adopt and implement the learnings of Labi in Japan. These include data management or recording of past disasters, indigenous practices in disaster risk reduction, public-private partnership, and early warning systems.
The Cordillera Region where Benguet is located has the highest risk of landslides in the Philippines. Data from the country's Mines and Geosciences Bureau noted that six provinces from the region are highly susceptible to landslide risks.
"Over the past years, JICA has offered disaster management trainings to Filipinos especially those coming from government frontline agencies and vulnerable communities to help build the country's resiliency against disasters. The trainings from JICA gives Filipinos the opportunity to learn from Japan's experience and systems, and integrate those aspects that are beneficial to the Philippines," said JICA Senior Representative Aya Kano.
In Benguet, Labi is also working with Japanese volunteer Ryunosuke Ichikawa in hazard mapping activities in La Trinidad. JICA volunteers like Ichikawa share their technical expertise in various development areas under the JICA Volunteer Program.
Aside from learning Japanese DRR practices, one of Labi's memorable experiences in his training was finally meeting his godfather Hisao Yoshihara in Tokyo. Yoshihara was a Japanese volunteer at the Mountain State Agricultural College (now Benguet State University) in the '70s. The trainee's father worked in the university who became a good friend of Yoshihara while living in Benguet. "It was Mr. Yoshihara who named me Yoshio. After 46 years, I'm happy to finally meet him and his family in Japan through the training," Labi shared.
"Through the training, I'd like to help my community have the basic knowledge and tools to respond to disasters," said Labi.
To know more about the JICA Volunteer Program, please visit https://www.jica.go.jp/philippine/english/activities/activity_01_04.html and for training opportunities, https://www.jica.go.jp/philippine/english/activities/activity_01_05.html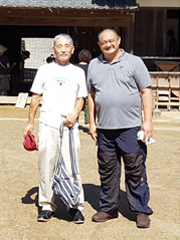 Yoshio with his godfather and former Japanese volunteer Yoshihara san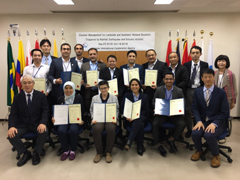 Participants during the Disaster Management for Landslide and Sediment- Related Disasters Triggered by Rainfall, Earthquake and Volcanic Activity
Data Source: