A young Japanese teacher is sharing new approaches in math and science teaching in a public school in Leyte to help boost the competitiveness of Filipino students in said subjects.
"Our teachers learned using new instructional materials that they can apply in their daily math and science lessons, including variations from traditional stick-counting to using calculation boxes and hands-on science experiments," said Mr. Arnulfo Octa, principal of Tanauan II Central School.
Teachers from Tanauan II Central School are learning these new approaches from Japanese volunteer Rena Takahashi dispatched under the Japan International Cooperation Agency (JICA) Volunteer Program. Takahashi used to be an elementary teacher in Sapporo, Japan before coming to the Philippines. For her volunteer work, Takahashi decided to focus on shifting from traditional stick-counting techniques to which students are accustomed to new approach on math and science learning used in Japanese schools.
The Philippines' K to 12 Basic Education Curriculum recognizes the role of math and science in cultural development and in preservation of national identity. The current Grades 1-10 curriculum framework also envisions scientifically, technologically, and environmentally literate students. Under K to 12, math subjects intend to develop critical thinking and problem solving skills among students using appropriate tools while also considering the local conditions of the learners. While, science subjects are required to include hands-on activities that will motivate students' curiosity and active learning.
"In Japan, emphasis is on inculcating appreciation among students on math and science and using practical methods to teach difficult subjects," said Takahashi. "For example, teaching science is not through lectures but through experiential learning."
Effectivity of such methods is evident as Japan school-aged students ranked as among the top in the world in science and math, based on the 2015 Trends in International Mathematics and Science Study.
Since introducing box frames to calculate numbers, Grades 1 to 3 students are able to have higher passing marks (93 to 96%) in addition and multiplication activities. For the science subjects, the Japanese volunteer also organized an exposure trip of math and science teachers in Tanauan II Central School in Japanese schools in Manila, Planetarium, and University of the Philippines National Institute for Science and Mathematics Education Development (UP-NISMED).
"By visiting the Japanese school in Manila, we saw best practices in classroom management, while also teaching students to become responsible and independent," said Ms. Rhea Alkuino, Grade 1 teacher in Tanauan II Central School.
JICA has been dispatching Japanese volunteers since 1960's. To date a total of 1,669 volunteers have helped support socio-economic development in the Philippines. To know more about the program and how to request for a volunteer, visit: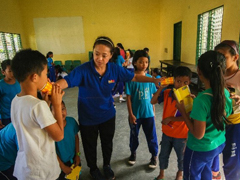 JICA volunteer Rena Takahashi (middle) conducts an experiment so students can experience using the five senses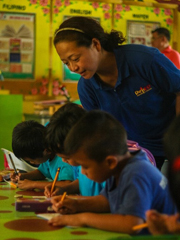 JICA volunteer Rena Takahashi believes that teachers should devise ways on how to make children enjoy learning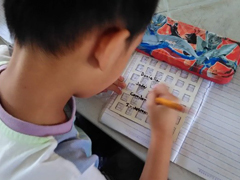 Through the use of a calculation box, a student's ability to calculate quickly and accurately is developed through constant practice
References: