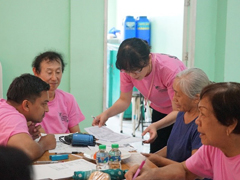 Tottori University officials interview a resident during the free checkups organized with the Municipality of Pateros
About 7.8 million Filipinos will likely be affected by diabetes by 2030, according to estimates by the American Diabetes Association.
Rapid population aging, western lifestyle, and affordable high-fat, sugar foods make the country prone to this non-communicable disease. Unfortunately, diabetic complications are also associated with economic burden that drives people to poverty.
A study points out that average health cost for an individual with diabetes in the Philippines is US$205, that may be costly in a country where average daily pay is PHP427 (PSA data, 2018).
To help address such concerns, Japan's Tottori University under the Technical Cooperation for Grassroots Project of the Japan International Cooperation Agency (JICA) has been working with the Municipality of Pateros to support health promotion and quality of life improvement among diabetics. The project sought to train patient peer leaders and implement sustainable prevention activities against diabetes.
Tottori University has been active in Japan particularly when it comes to health promotion activities, epidemiological surveys, health examinations, and public health awareness for diabetes, according to Project Coordinator Nobuyuki Kobayashi, who is also a professor at the university.
In Pateros, the university has worked with the Diabetic Association of Pateros (DAOP) in the conduct of health checkups, interviews related to self-management of diabetes, and clinic visits.
Due to low health funding and lack of human resources to handle non-communicable diseases, Pateros was identified as local government partner for the project. Teaching patients self-management on preventive measures in diabetes can help address complications from diabetes.
Together with the University of the Philippines, Tottori University analyzed data collected from peer leaders on various diabetic indices. The project leader, Chika Tanimura, who is an associate professor and nurse, noted that since the launch of the project, there has been a significant improvement in their knowledge about diabetes. In addition, their HbA1c (hemoglobin A1c or blood sugar levels) have been maintained at the same level.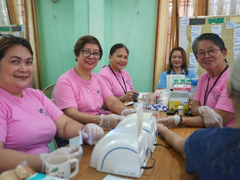 Midwives at a health center in Pateros administer blood tests using equipment provided under the project
On the other hand, diabetics that undergo regular health checkup and receive guidance from peer leaders have also shown an improvement in knowledge and mental quality of life.
"With the help of Tottori University, we learned the specific types of diet and exercise that are appropriate for persons with diabetes," shared Benjamin Orata, peer leader and former president of DAOP. "We also have sessions where peer leaders share their learnings with other patients."
Though the project will end in December 2019, DAOP and the Municipality of Pateros plan to continue the free checkups and consultations held in the barangay health center every Tuesday and Thursday.
JICA has been working with Japanese organizations, universities, and civil society to address pressing development issues. In the Philippines, there are currently eight (8) ongoing projects under the technical cooperation scheme at the grassroots level.