The Japan International Cooperation Agency (JICA) in a move to strengthen cooperation to support vulnerable sectors in the local communities has dispatched the 173rd batch of Japanese volunteers under the Japan Overseas Cooperation Volunteers (JOCV) Program.
The new batch of Japanese volunteers will be working for the welfare and education of PWDs in the Philippines, through livelihood programs and special education advocacy. About 1.443 million or 1.57 percent of the Philippine population had disability, data from the Philippine Statistics Authority (PSA) showed. A government study, however, noted that employing this segment of the population still needs improvement.
Through the Philippine National Volunteer Service Coordinating Agency (PNVSCA), such need for greater inclusion of PWDs was conveyed to JICA for assistance. "The dispatch of JICA volunteers to support various development areas is an important component of our Official Development Assistance (ODA) to our partner countries. Japanese volunteers help strengthen our bilateral relations, while also sharing Japanese expertise in areas like inclusion of PWDs through education and employment," said JICA Senior Representative Aya Kano.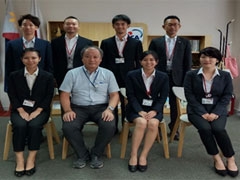 Batch 173 of JOCV in the Philippines with JICA Chief Representative Yoshio Wada
The new batch of Japanese volunteers will be working in various elementary schools in Iloilo Province and Leyte for transition classes and in an LGU for livelihood activities of PWDs. Some volunteers, meanwhile, will support faculty development and farming projects in selected state universities. To date, some 1,669 Japanese volunteers have been dispatched to the Philippines to support agriculture, health, education, and social welfare among others.
Japanese volunteers first arrived in the Philippines in the 1960s to support livestock development and the program has since expanded to include other development areas such as community development, design and education and capacity building. In 2016, Japanese volunteers were awarded the Ramon Magsaysay Award for "helping create social good in the region."
To know more about the program and how to request for a volunteer, visit: https://www.jica.go.jp/philippine/english/activities/activity_01_04.html