A Japanese company, Biotech Japan Corporation (BTJ), will open a new factory for its low-protein rice technology in Tarlac Province as part of its move to help the Philippines address its growing chronic kidney diseases (CKD) health burden while also supporting the rice production initiatives of the province.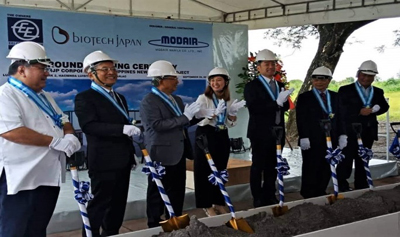 (L-R) Mr. Robert Jose Castillo and Mr. Kiyosada Egawa (BTJ Philippines), Dr. Enrique Ona (formerly of DOH), Ms. Katrina Angeles Go (Daughter of Tarlac City Mayor), Yukinori Watanabe (JICA Philippines), Atty. Joan Armel Tambaoan (BTJ Philippines), Mr.Makoto Numata (Modair Manila)
The groundbreaking ceremony for the new factory was held this week with Former Health Secretary Dr. Enrique Ona, Daughter of Tarlac City Mayor Ms. Katrina Angeles Go, Tarlac Philippine Economic Zone Authority (PEZA) Zone Manager Atty. Rene Baysa, Embassy of Japan First Secretary Mr. Tetsuharu Mori, Biotech Japan Philippines Chairman Mr. Robert Jose Castillo, Biotech Japan Philippines President Mr. Kiyosada Egawa, Biotech Japan President Mr. Jo Egawa, and Modair Manila General Manager Mr. Makoto Numata in the event. Factory operation is expected to commence by mid-2020.
The company has introduced its low protein rice technology to countries like the Philippines to help delay progression of CKD and decrease the costs of medical treatments of these patients. In the Philippines, CKD is a growing health burden, with some 23,000 Filipinos receiving dialysis treatments in 2013, four times higher than the figure of CKD patients in 2004.
BTJ's business in the Philippines is also a result of the Partnership with Japanese Private Sector initiative of the Japan International Cooperation Agency (JICA) where Japanese companies collaborate with JICA to share their innovations towards addressing development issues in JICA partner countries. BTJ was part of the program from 2016 to 2017, and has established their first factory in Batangas in 2018.
"Japanese private sector possesses technological innovations and human resources that can have positive impact on the welfare of people in our partner countries. Through this program, JICA welcomed the sharing of this innovation of low protein rice technology to address one of Philippines' health burdens. It's also a win-win partnership between JICA and the Philippines since the program will also support business expansion of Japanese companies, while also making a social impact in a partner country," said JICA Philippines Project Formulation Advisor Yukinori Watanabe.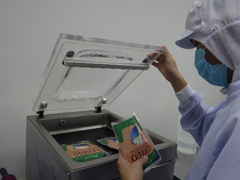 At the BTJ facility in Batangas
The BTJ project in Tarlac will have 20,000 rice packs production capacity per day and is part of the province's Rice Revolution 21 program (RR21) that aims to develop Tarlac's rice supply chain. Aside from JICA, BTJ's initiative in the Philippines is also in partnership with the Yuchengco Group, the Philippine Rice Research Institute (PhilRice) and the Department of Science and Technology – Food and Nutrition Research Institute (DOST-FNRI). "Through this project, the Philippines is able to use private sector technology from Japan in rice processing. It can also help improve the value of rice that our farmers produce through new or innovative rice products," said Manuel Regalado, PhilRice scientist and engineer.
BTJ Philippines President Mr. Kiyosada Egawa added, "The JICA support gave us the opportunity to explore business in the Philippines. Since JICA has been supporting development cooperation projects here for many years, being part of the JICA program also means the Filipinos can trust us and the program gives us the chance to work with different Philippine organizations."
JICA's Partnership with the Japanese Private Sector Program began in 2012 and has since enabled technology transfer, human resource development, and job creation in different parts of the Philippines. Aside from BTJ, there are currently 17 Japanese companies supporting various development areas in the Philippines under said JICA program.