In light of recent earthquake incidents in the Philippines, the Japan International Cooperation Agency (JICA) emphasized seismic resilience in the country's infrastructure initiatives in a seminar held recently in Manila with the Department of Public Works and Highways (DPWH).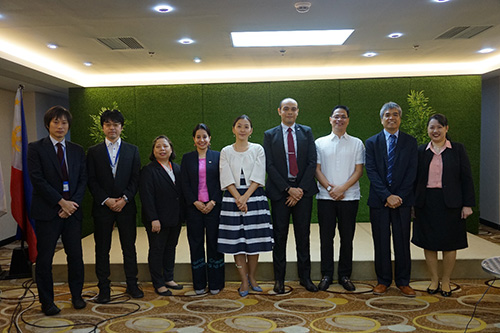 (From left to right) JICA Philippines Representative Atsushi Shibata, JICA Expert Takafumi Nakui, DPWH-Bureau of Maintenance Assistant Director Maria Visna Manio, Marina Kawai of JFE Steel Co. Ltd., JICA Philippines Senor Representative Kiyo Kawabuchi, Arafat Ahmed Mohamed Abdelhalim of Kawakin Core-Tech Co. Ltd., DPWH-Bureau of Maintenance Director Ernesto Gregorio Jr., Dr. Jovito Santos of CTI Engineering International, and JICA Philippines Section Chief Leah Peñarroyo at the Seminar on Earthquake Disaster and Structural Measures for Mitigating Seismic Impact held in Manila
JICA expert Takafumi Nakui in his talk on Japan's Organization and Response for Disaster Management, shared that Japan's own natural disasters since the 17th century that killed an average of more than 10, 000 people every forty years triggered "Japan to improve its standards in constructing buildings and infrastructure against seismic impact." The Japanese expert shared that Japan has since prioritized countermeasures against disasters through disaster management plans, recovery, and response at the government, prefecture, and municipality levels.
Nakui further stressed the role of government agencies in raising disaster resiliency efforts in building infrastructure, noting the role of Japan's Ministry of Land, Infrastructure, Transport, and Tourism (MLIT) in areas such as "information sharing on disaster prevention, technical support to local governments on disaster response, management of disaster recovery system, and rehabilitation efforts."
About 100 officials from the DPWH, Metropolitan Manila Development Authority (MMDA), Department of Transportation (DOTr), and academe attended the seminar. JICA Senior Representative Kiyo Kawabuchi said, "Japan and the Philippines share common experience when it comes to disasters. Since the Philippines is in the Pacific Rim of Fire, it is therefore prone to large earthquake disasters. As development partner of the Philippines in several infrastructure projects, JICA would like to continuously work with different stakeholders in planning and implementing infrastructure projects that are resilient and safe against large earthquakes."
JICA is supporting 11 of the infrastructure projects of the Philippines' Build Build Build program, including key railway projects such as the Metro Manila Subway Project, North-South Commuter Railway (NSCR) Project, Metro Rail Transit Line 3 Rehabilitation Project, Light Rail Transit (LRT) Line 1 Cavite Extension Project, and LRT Line 2 East Extension Project. The Japanese bilateral aid agency has also been supporting disaster resiliency efforts in the Philippines including a 2004 Study for Earthquake Impact Reduction for Metropolitan Manila. The study pointed to importance of disaster mitigation in case of a 7.2 magnitude earthquake that could leave more than 30,000 human fatalities and approximately 100,000 human injuries.
Recent earthquake incidents like those felt in Central Luzon and Metro Manila, added JICA, should prompt stakeholders in infrastructure to focus on structural measures that can mitigate seismic impact.
During the seminar, a Japanese company CTI also shared Japan's experience on improving bridge performance against earthquakes, including strengthening the structural capacity of bridges and soil improvement measures against ground liquefaction. The company cited urgency in "seismic improvement of bridges" in the Philippines since the country is one of the most earthquake-prone countries in the world, regularly subjected to destructive seismic events, inflicting loss of lives and costly damage to the country's infrastructure.
To date, the government has created a DPWH program management office for earthquake resiliency of the Greater Metro Manila in 2019 to operationalize the agency's earthquake resiliency and response plan and institutionalize the earthquake contingency and continuity plan.
Aside from supporting infrastructure building, JICA has been supporting the DPWH in raising its disaster resiliency efforts in infrastructure through a study on improving bridges through large-scale earthquake disaster mitigating measures in 2012 that helped develop DPWH's Bridge Seismic Design Specifications (BSDS), evaluation of bridges, and trainings of DPWH engineers in Japan.