A forest conservation project of the Japan International Cooperation Agency (JICA) and Department of Environment and Natural Resources (DENR) completed the reforestation of some 10, 841 hectares in Jalaur Watershed in Iloilo Province as part of efforts to protect the country's forest resources.
These watersheds are critical for the country's water supply resources but threatened with illegal human activities.
The project called Forestland Management Project (FMP) is eyeing to protect a total of 71,300 hectares of forests in the country's watershed areas including Jalaur Watershed in Iloilo, Upper Magat and Cagayan River Basins, and Pampanga River Basin. These cover the provinces of Iloilo, Nueva Vizcaya, Quirino, Ifugao, and Nueva Ecija. Aside from site development for agroforestry or reforestation and water and soil conservation, FMP also includes building facilities such as farm-to-market roads, bridges, and irrigation systems and enterprise development support to upland communities.
"We'd like to continue helping the Philippines overcome its vulnerability against disasters and environment risks through the Forestland Management Project. By encouraging collaboration to preserve these forest resources and watershed areas, we're also ensuring that the young generation benefits from a sustainable model of economic development," said JICA Philippines Senior Representative Yo Ebisawa.
Already, some 149 people's organizations in upland communities in the project's target sites developed enterprises such as bakery, red chili production, and ginger tea production among others as source of income. "We used to practice kaingin (cutting down and burning of trees) so we can make charcoal from the area where we earn P3,000 a month. With help from the project, we realized the benefits of agroforesty, and replanted the area with mahogany and coffee," said Jimmy Rapista, a farmer and member of the Panuran Tasik Upland Farmers Association, Inc. (PATUFA) in Iloilo. The coffee harvest, he added, gives farmers like him as much as P48,000 per harvest, more than double what they earn before the project.
The project's counterpart, DENR also shared the same mission. According to Raul Lorilla, provincial environment and natural resources officer in Iloilo, "Through FMP, we envision a future where communities and people who depend on forests all benefit from the positive environment outcome of working together. As we continue with the project in the coming years, we are committed to continuously capture the success and progress of our local communities."
The JICA-DENR project began in 2012 and will end on July 2022. Aside from forestland management, JICA is also supporting other environment-related projects in the Philippines through conservation of blue carbon ecosystems, nonrevenue water improvement in Metro Manila's west zone, and solid waste management among others.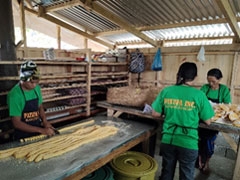 PATUFA members busy with their bakery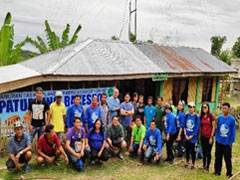 Group photo of PATUFA Organization with JICA Senior Program Officer Kessy Reyes during the project site visit to Iloilo.