Palawan, PHILIPPINES – A newly rehabilitated and improved national irrigation system, Malatgao River Irrigation System (RIS), in Luzon was inaugurated Monday (November 25) as part of continuing assistance of the Japan International Cooperation Agency (JICA) to the agriculture sector in the Philippines under the 6.187-billion yen National Irrigation Sector Rehabilitation and Improvement Project (NISRIP).
The Malatgao RIS subproject, which began in 2015 and was completed last October, aims to restore about 3,014 hectares of service area in the province to help raise productivity and income of 1,585 farmers in the area. It is the fourth largest system among the eleven national irrigation systems to be rehabilitated under NISRIP.
Top officials of the Province of Palawan, the National Irrigation Administration (NIA), Office of the Cabinet Secretary, Embassy of Japan in Manila (EOJ), JICA, and farmer beneficiaries attended the inauguration including turnover of support facilities for irrigators' associations (IAs).
"Knowing the potential of agriculture sector to improve the lives of many Filipinos, JICA continues to help increase productivity and raise the income of Filipino farming households," said JICA Philippines Senior Representative Jin Hirosawa.
Cabinet Secretary Karlo Alexei Nograles, in his keynote speech, recognized the contribution of Malatgao RIS in the agriculture sector of the country: "To sustain the momentum (of the country's agricultural growth), irrigation is key and the irrigation system like the one we are inaugurating today is part of government efforts to continue building on the progress we have made in the agriculture sector. With this project, we hope to boost per hectare productivity by 25 - 50% - improvements that will benefit 3,000 farmers and their families, and the thousands of Filipinos especially in Palawan who are dependent on rice."
Farmers remain among the Philippines' poorest sectors with poverty incidence going as much as 34.3% (PSA Report, 2015).
The project has three components, namely: rehabilitation of irrigation facilities, institutional strengthening of IAs and agricultural support.
NISRIP is part of NIA's major thrust to fast track the restoration and rehabilitation of national irrigation systems to improve and sustain rice production and other staples in the country. The 11 NISRIP sites are located in the following 10 provinces: Ilocos Norte (Madongan and Solsona RIS), Pangasinan (San Fabian RIS), Pampanga (Porac-Gumain RIS), Quezon (Dumacaa RIS), Palawan (Malatgao RIS), Iloilo (Sta. Barbara RIS), Bukidnon (Muleta RIS), Davao del Sur (Mal RIS), Sultan Kudarat (Lambayong RIS), and Agusan del Sur (Simulao RIS).
In the Philippines, JICA has been helping reduce poverty through projects in the agriculture sector, infrastructure, and disaster risk reduction, among many others. As of 2017, total ODA of JICA in the Philippines allocated for agriculture amounted to about 295 billion yen.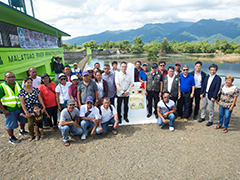 Photo opportunity after the unveiling of the Malatgao River Irrigation Facility in Narra, Palawan with representatives of the Irrigators Associations, and guests and officials from NIA, Embassy of Japan, and JICA.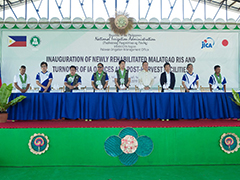 (L-R) Mayor of Narra Gerandy Danao, Palawan IMO Division Manager Conrado V. Cardenas, Jr. NIA MIMAROPA Regional Manager William Ragodon, NIA Deputy Administrator Romeo Gan, Cabinet Secretary Karlo Alexei Nograles, EOJ Deputy Chief of Mission Minister Yasushi Yamamoto, JICA Philippines Senior Representative Jin Hirosawa, NISRIP Project Manager Silvino Navarro, and Malatgao FIA Federation President Ronald Martinez