Japanese engineering schools are strongly linked with industry players in Japan that two Filipino engineering professors are adopting the same idea in the Philippines.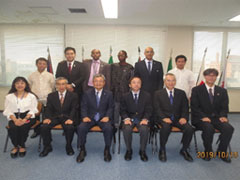 Photo Courtesy of Mr. Geoffrey Salvador
Said Filipino professors joined other faculty from Cambodia, Senegal, Sudan, and Saudi Arabia under the Japan International Cooperation Agency (JICA) Knowledge Co-Creation Program-Group and Region Focus (KCCP-GRF) Course on the Practical Human Resource Development in Electrical and Electronic Engineering. Said training is part of JICA's Official Development Assistance (ODA) that aims to promote capacity building to support human resource gaps in developing countries.
"We are developing modules inspired from the training program so that students will develop the theoretical and technical knowhow in their practice of their engineering profession," said Geoffrey Salvador, assistant professor and chair of the electronics and engineering department of the Polytechnic University of the Philippines (PUP). Another participant Alessandro Petrache, instructor of Electronics Department at the College of Industrial Technology of the Technological University of the Philippines (TUP) said, "The training in Japan encouraged us to build strong tie-ups with electronics or electrical companies so students can get jobs after graduation that are appropriate to their courses."
During the training, the participants joined lectures on Japan's Industrial Technical Education and Vocational Training System, Coaching Management, Japan's Employment Situation and Company's Viewpoints for Recruiting, Electric Laws and Regulations, Electric Power Network and Eco-friendly Vehicles and its practical applications on basic electricity, programmable logic controller, analog and digital electronics, logic circuit, control system, operational amplifier, AC circuit, and robot teaching. They also joined site visits to Japan's engineering universities and industries like Kyushu Polytechnic College, Kyushu Institute of Technology, Kitakyushu Technical Junior College, Kinki University, Kokura Technical High School, Onga Driving School, Mitzubishi, Kuwahara, and Yaskawa electric companies, Nippon Steel Technology, TOTO, and Panasonic.
"The training for Filipino engineering teachers is part of JICA's support to the Philippines in developing professional engineers that could help improve infrastructure and industry development. Capacity development is also a key component of JICA's ODA based on Japan's experience in modernizing its economy many years ago," said JICA Philippines Senior Representative Aya Kano. "Thus, through the trainings, we share Japan's knowledge with developing countries that can help address the challenges in their respective sectors."
It can be noted that Japan is the first non-western country to industrialize following the 'adopt and adapt' concept where they learn appropriate skills and knowledge from advanced countries. These experiences are internalized in their society to meet specific local needs and conditions.
"Through the trainings, I hope that we can develop graduates with the right attitude and skills that match the industry's needs," said Petrache.
Aside from the recent training for engineering teachers, JICA is also working with the Philippine government in bridging academe and industry gap through a project on industrial human resource and value chain development for the automotive industry, where a major group of industry players are Japanese investors and companies. There are also four Philippine universities involved in research collaboration under JICA ASEAN University Network / Southeast Asia Engineering Education Network.