La Trinidad in Benguet is often on the list of famous tourist destinations in Northern Luzon for its strawberry fields, colorful houses, and fresh vegetables. The cool weather and proximity to Baguio City also often seal the deal for tourists to visit La Trinidad.
This year, however, La Trinidad is shifting its tourism pitch towards a new niche: young foreign students studying English in the Philippines.
Through young Japanese volunteer Kasumi Yamawaki, the local tourism office of La Trinidad is using the power of social media to promote the province to foreign students. Data from the local tourism office showed that about 14,000 foreign students study the English language in Baguio every year. Of this, 1,800 are Japanese.
"I blog for a language school agent to help promote La Trinidad to foreign students and tourists. I also helped develop information guides on transportation and maps for Japanese media," said 28-year old Yamawaki, who is one of the young Japanese volunteers dispatched to the Philippines under the Japan Overseas Cooperation Volunteers (JOCV) Program of the Japan International Cooperation Agency (JICA) in the Philippines. Yamawaki worked as a website developer in a Japanese company in Tokyo before becoming a JOCV.
Through her work, La Trinidad is getting support to increase its tourist arrivals through foreign language students looking for vacation and leisure spots in the Philippines. La Trinidad is home to 22 tourist spots, including Stobosa colorful houses (reminiscent of the favelas in Brazil), Mount Costa eco farm, Roofless Art Studio featuring local artists, Mount Kalugong, and the famous strawberry farm and vegetable trading post.
La Trinidad local tourism officer Valred Olsim said, "Through the Japanese volunteer, La Trinidad now has an online presence in Japan. She created digital posters and improved our brochures." With her support, La Trinidad is eyeing to increase its tourists by 2% or additional 12,000 more tourists to the province.
"As a Japanese volunteer, I like to contribute my skills to help La Trinidad's tourism industry. Through the JOCV Program, I found what I really wanted to do," shared Yamawaki.
The JICA JOCV Program works with government agencies, non-profit groups, schools, and local governments to support different development needs. In the Philippines, JICA has dispatched 1,669 Japanese volunteers since 1966. Know how your organization can get JOCV support through this link:
Kasumi at Stobosa colorful houses, one of the tourist desitinations in La Trinidad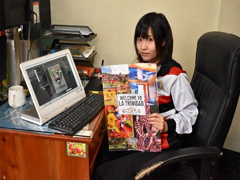 Kasumi with her developed information guides on transportation and maps