As part of move to conserve Philippine forest resources, PhP86 million agroforestry infrastructure projects composed of bridge, roads, and irrigation facilities were turned over recently to the local government units (LGUs) in Nueva Vizcaya and Quirino Provinces in Region II and Ifugao in the Cordillera Administrative Region (CAR).
Said projects are part of the 10-year 9.244 billion yen Forestland Management Project (FMP) of the Japan International Cooperation Agency (JICA) and Department of Environment and Natural Resources (DENR). The project seeks to protect a total of 71,300 hectares of forests in the country's watershed areas including Jalaur Watershed in Iloilo, Upper Magat and Cagayan River Basins, and Pampanga River Basin. These cover the provinces of Iloilo, Nueva Vizcaya, Quirino, Ifugao, and Nueva Ecija.
"The agroforestry infrastructure support like roads and bridges are meant to support the livelihood activities of the people's organizations (POs) in the project areas. Likewise, JICA will continue to support the training of POs so they can manage their enterprises and keep their organizations viable," said JICA Philippines Senior Representative Yo Ebisawa.
The recently turned over agroforestry infrastructure include the (1) 60 lineal meters bridge in Ambaguio, Nueva Vizcaya; (2) 2.63 kilometers farm to market road in Asipulo, Ifugao; (3) 3.38 kilometers farm to market road in Diffun, Quirino and (4) 1,730.27 meters irrigation pipeline in Diffun, Quirino. Said infrastructure, according to JICA, aims to enhance transportation, access to social services and connectivity of upland communities, while also helping them easily monitor the plantation areas and take part in conservation. Watershed areas are critical to the country's water resources, and are affected with illegal human activities.
Aside from infrastructure, the JICA-DENR project is also providing training and enterprise development support to some 149 POs to ensure that they become active players in forest conservation, discouraging them away from illegal activities like kaingin (cutting down or burning of trees).
The FMP is set to finish by 2022 and activities (enterprise development, infrastructure building, trainings) for other areas are ongoing.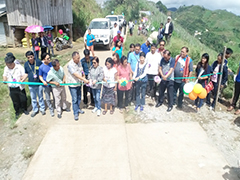 Ceremonial Ribbon Cutting during the Inauguration of the Ifugao Namal Access Road project in Ifugao, CAR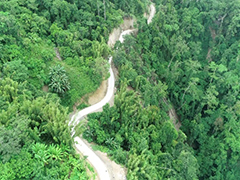 3.38 kilometers farm to market road in Diffun, Quirino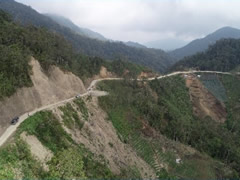 2.63 kilometers farm to market road in Asipulo, Ifugao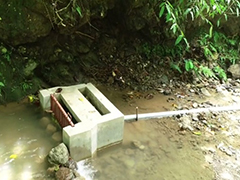 Ifugao Village Irrigation Pipeline
*Photos courtesy of DENR