An agrarian reform officer from the Department of Agrarian Reform (DAR) in Sultan Kudarat Province completed a training in Hokkaido, Japan recently to study Japan's agriculture practices that the Philippines can adopt to boost the local dragon fruit industry.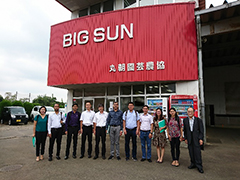 Cherry Mae Purazo, 36, a senior agrarian reform program technologist, was among this year's scholars under the Knowledge Co-Creation Program (KCCP) on Regional Agribusiness Promotion by Value Chain Building in the Asian Region for High Value Added Local Food Supply. The KCCP is a program of the Japanese government through the Japan International Cooperation Agency (JICA) that trains young professionals in various development areas as part of Official Development Assistance (ODA).
"The training shared with us the Sixth Industrialization Concept where integration and collaboration is encouraged among farmers, processors, industry, and consumers," said Purazo. "For example, Japan's Obihiro Kawanishi Agricultural Cooperative in Hokkaido, is involved not just in farming operations and finance but also in business promotions."
"In Japan, they are also strong about food safety, while emphasizing its role in boosting customers and business," added Purazo. A lecture on Hazard Analysis and Critical Control Point (HACCP) was also part of the training held in Japan's Obihiro University of Agriculture.
Purazo shared that in Sultan Kudarat Province where there are various farmers' groups, the challenges are empowering the farmers in pricing their produce, capital access, and lack of consolidators. While the dragon fruit industry shows positive trend at 1.4 million metric tons in 2017, the industry stands to benefit when Sixth Industrialization Concept is applied in increasing the farmers' income through value-adding and local promotions such as farm tourism, trade fairs, and festivals.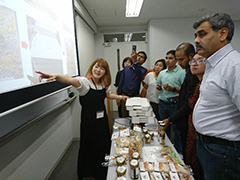 Purazo joined other participants from countries like Cambodia, Mongolia, Myanmar, Pakistan, and Vietnam in attending lectures and visiting farms in Hokkaido. "In developing countries like the Philippines, consumer needs for delicious, safe, and high quality agricultural products are increasing along with economic growth and rising incomes. Countries like the Philippines cannot meet these needs since farmers need interventions to produce based on market needs. The training taught us that value chain development can be an effective solution to these problems."
Today, Ms. Purazo is sharing her experiences and learnings to some agrarian reform beneficiaries' (ARB) organizations in Sultan Kudarat. She already submitted her action plan for approval and funding of the DAR Central Office for the initial activities to start the development of the dragon fruit production in her province.
Every year, JICA sends young professionals to Japan under its KCCP as part of its support to the human resource development in the Philippines. To learn more about the KCCP, please visit: https://www.jica.go.jp/philippine/english/activities/activity02_03_01.html .