The Japan International Cooperation Agency (JICA) is supporting relief efforts through in-kind donations to communities affected by the Taal Volcano disaster.
JICA is turning over five (5) units of generators; five (5) units of extension cord reel; 5,000 portable jerry cans; 5,500 water containers; and 10,000 N95 masks for displaced families and individuals from the volcano disaster.
"JICA is a friend and trusted partner of the Philippines and we believe that extending help in times of disaster is one way to further strengthen our relations. Like the Philippines, Japan is also vulnerable to different natural disasters and we sincerely sympathize with the affected Filipinos of the volcanic eruption," said JICA Philippines Chief Representative WADA Yoshio. "Through this support, we hope that affected communities will be able to return to their normal lives as quickly as possible."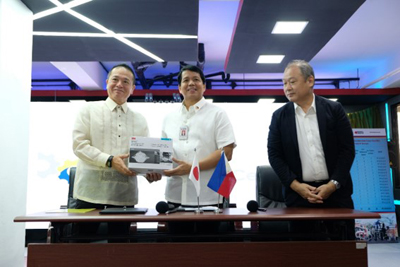 Photo shows Japanese Charge d' Affaires YAMAMOTO Yasushi (left) and JICA Philippines Chief Representative WADA Yoshio (right) turning over a box of N95 masks to Department of Social Welfare and Development (DSWD) Secretary Rolando Joselito Bautista (center) during the signing ceremony today, January 29, at the DSWD Central Office in Quezon City.
As a development partner of the Philippines, JICA has actively supported building the country's disaster resiliency through structural (infrastructure, river revetment, dams) and non-structural measures (capacity building, planning) since the 1960s. Most recently, JICA has expanded its cooperation with the Office of Civil Defense (OCD) under a project Disaster Risk Reduction and Management Capacity Enhancement to help reduce human casualties and economic losses during disasters.
"We hope that our overall development support to the Philippines will also add value to the nation's disaster resiliency efforts including planning, monitoring, and implementation aspects," added Chief Representative Wada.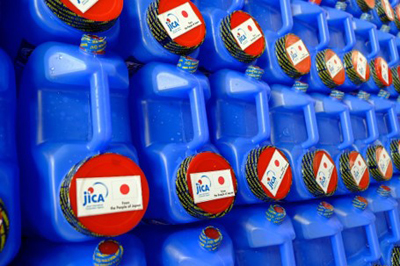 Water containers turned over to DSWD