The Philippine Coast Guard (PCG) is stepping up in its maritime capability with the upcoming two 94-meter multi-role response vessels (MRRVs), eyed as PCG's largest floating assets, under its cooperation with the Japan International Cooperation Agency (JICA).
This week, Secretary Tugade of the Department of Transportation (DOTr) and President Okura of Mitsubishi Shipbuilding Corporation Limited led the contract signing for the construction of said vessels amounting to 14.45 billion yen under the ongoing JICA-PCG Maritime Safety Capability Improvement Project Phase II.
The vessels will be using Japanese technology meant to withstand operation in high sea at rough conditions. The PCG will use said units in its search and rescue missions, marine protection, and reduction of piracy and other illegal activities at sea.
Once delivered in early 2022, the PCG said the vessels will be used in patrolling maritime territories including exclusive economic zones, aside from PCG's usual functions for search and rescue, marine environment protection, and maritime safety.
Nearly 90% of global trade pass through sea waters. Both Japan and the Philippines are maritime nations where seaborne trade plays crucial in their countries' economic prosperity. As such, JICA has been supporting the PCG in improving their capability towards the region's maritime safety and security. In 2013, JICA began expanding its support to PCG with 10 (ten) 40 MRRVs that were deployed in critical missions to save fishermen and passengers during disasters, maritime patrol in key coastal areas, and regional security during the ASEAN Summit in the Philippines and the Marawi siege.
Each vessel will be equipped with features that allow better maneuverability including a helicopter landing deck and hangar against extreme weather. The vessels can travel at maximum speed of 24 knots.
"With this project, we are confident that the PCG will have enhanced capability to address the evolving maritime safety and security landscape we are all facing," said JICA Philippines Chief Representative WADA Yoshio.
Since the 1990s, JICA has been supporting the capacity building of the PCG through trainings and scholarship programs.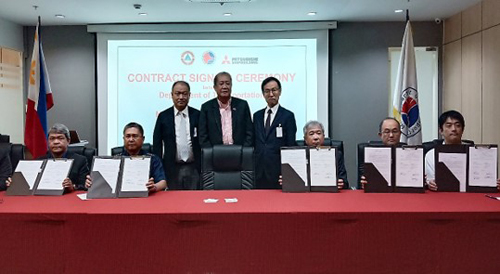 (L-F) DOTr Undersecretary for Finance Garry V De Guzman, PCG Commandant Joel S. Garcia, JICA Philippines Chief Representative WADA Yoshio, DOTr Secretary Arthur P Tugade, Minister for Economic Affairs NAKATA Masahiro, Mitsubishi Shipbuilding Co., Ltd President and CEO OKURA Koji, Mitsubishi Shipbuilding Co., Ltd, General Manager MASE Kenichuro, and Manila Representative Office Chief Representative YOKOME Kazunori.