As part of their commitment as bilateral aid partner of the Philippines, the Japan International Cooperation Agency (JICA) and Department of Environment and Natural Resources (DENR) have recently turned over agroforestry infrastructures composed of bridges, roads and irrigation facilities amounting to over P185 million to Regions II (Cagayan Valley), III (Central Luzon), VI (Western Visayas), and Cordillera Administrative Region (CAR).
The infrastructure support forms part of the Forestland Management Project (FMP) that seeks to help the Philippines conserve its forest resources, while ensuring sustainable livelihood and forest management in upland communities.
Financed by Japanese Official Development Assistance (ODA), FMP has been helping rehabilitate more than 71,300 hectares of forest resources in Philippines' watershed areas through forest and agroforestry plantation establishment, protection and maintenance activities, infrastructure support, as well as capacity building of people's organizations and farmers. "Supporting farmers is a good start in ensuring sustainable management of forest resources. The agroforestry support facilities and infrastructure from JICA will help them access basic services and support their enterprise development and agribusiness efforts," said JICA Philippines Senior Representative EBISAWA Yo.
The completed agroforestry facilities will benefit various communities in Nueva Vizcaya, Nueva Ecija, Iloilo, and Ifugao. The infrastructure turned over included the Balungay Hanging Bridge, Sitio Lacong-Babadi Access Road, and four (4) irrigation pipeline systems in Nueva Vizcaya; the Barat Reinforced Concrete Deck Girder Bridge and Calaocan irrigation pipeline system in Nueva Ecija; the Bagongbong Hanging Bridge and Panuran Pathway in Iloilo; and the Palaad-Ayangan Access Road and Pullaan Core Local Road in Ifugao.
JICA and DENR have so far turned over an estimated PhP 949 million worth of agroforestry support facilities to farmers and benefited 149 people's organizations in the regions.
"JICA hopes that the FMP model where upland communities and government work together to conserve forest resources will be sustained. The 149 enterprises developed under the project will also help boost the earnings of farmers and communities and encourage participatory forest management and conservation," added Ebisawa.
Already, the DENR has mounted the Save Our Watershed campaign recently to help sustain the gains from the JICA-DENR forest management initiative by involving more stakeholders in the local government and civil society towards conserving Philippine watersheds in FMP areas.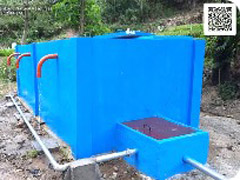 Carolotan Irrigation Pipeline System in Nueva Vizcaya
Barat Reinforced Concrete Deck Girder Bridge in Nueva Ecija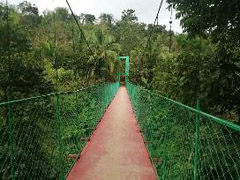 Bagongbong Hanging Bridge in Iloilo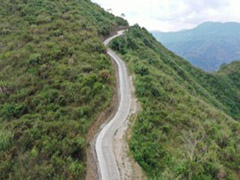 Pulaan Core Local Road in Ifugao
Photos courtesy of DENR