The Japan International Cooperation Agency (JICA) and Department of Public Works and Highways (DPWH) began this week the fourth phase of the Pasig-Marikina River Channel Improvement Project to mitigate extreme flooding in Metro Manila.
In 2020, Typhoon Ulysses affected nearly one million families and damaged some P17 billion worth of infrastructure. The Global Climate Risk Index 2021 has also ranked the Philippines as the 17th most affected country by extreme weather events, and has cost the Philippines an average of $3.2 billion every year.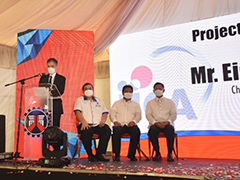 JICA Chief Representative AZUKIZAWA Eigo delivering a speech during the Groundbreaking ceremony.
"The Philippines' flood experiences tell us why it's important to have a comprehensive and resilient flood management system. JICA therefore welcomes this project that aims to mitigate flood damage in Metro Manila through river channel improvement and flood mitigating structures," said JICA Chief Representative AZUKIZAWA Eigo.
JICA has assisted river channel improvement in the Pasig-Marikina River since 2000. The fourth phase will implement structures such as revetments, flood walls, and movable weirs that will help adjust and regulate the flow of the flood waters.
Further, the gate structures that will be built under the project will help protect low-lying areas in Cainta and Taytay from backflow flooding.
In addition to structural measures, the project also includes soft measures such as Information Campaign and Publicity, by ensuring efficient and effective information dissemination in various forms of media for smooth coordination and implementation of the project. There is also the preparation of flood hazard map which is necessary for the promotion of flood evacuation activities by providing essential data to support the LGUs in formulating action plans concerning disaster risk reduction.
"Hopefully, these substantial infrastructure under the project will help save more lives and enhance Metro Manila's resilience against extreme weather," added Azukizawa.

Distinguished guests during the Groundbreaking Ceremony including JICA Chief Representative AZUKIZAWA Eigo, Japanese Ambassador to the Philippines KOSHIKAWA Kazuhiko, DPWH Acting Secretary Roger "Oging" Mercado, and other attending officials.
JICA has also worked on other flood mitigating projects such as the construction of the Imus River Retarding Basin in Cavite with DPWH, and the rehabilitation of the Metro Manila Effective Flood Control Operation System or EFCOS in partnership with the Metro Manila Development Authority (MMDA).
Aside from these, JICA also implements around 80 Official Development Assistance (ODA) projects in the Philippines covering various sectors such as railways, agriculture, environment, social development (health and education), and peace and development in Mindanao.