Making the younger generation understand the pandemic and its impacts is a fundamental step in our holistic recovery from COVID-19. That is why the Japan International Cooperation Agency (JICA), Department of Social Welfare and Development (DSWD), and Council for Welfare of Children (CWC) have come together to publish educational books that serve as guide to speak about COVID-19 to young minds.
The comic book "Ang Mga Eroplanong Papel" is based on interviews with children and youth at select welfare institutions, children's NGOs and communities in the Philippines, reflecting their understanding and aspirations throughout the pandemic. The activity book entitled "Sarilaysay", meanwhile, features activities educating the young on COVID-19, while also addressing emotions they may be feeling during their childhood in the pandemic. The educational materials form part of a collaborative effort of international organizations like JICA, government agencies, and non-profit organizations in the Philippines.
"JICA believes that supporting young people is crucial as they are also a nation's precious resource and they have the potential to steer the Philippines' future," said JICA Chief Representative SAKAMOTO Takema. "The pandemic has been a confusing period for many children. That's why JICA works with many institutions in the Philippines to make sure that children and parents alike are guided in moving forward amid the changes brought by COVID-19."
The materials for children, according to DSWD, complements the agency's Adolescent Mental Health and Psychosocial Support Training Manual for Service Providers during emergencies. About 3,000 copies of the materials will be distributed to Philippine residential care facilities, children's NGOs, daycare centers, and communities nationwide.
Prior to the pandemic, JICA has recognized the need for a powerful, comprehensive response to children at risk. They have worked with Japanese non-government organization A Child Trust is Ours to Nurture (ACTION) and DSWD in training house parents in Central Luzon and National Capital Region (NCR) so they can implement quality standards in caring for children and youth in welfare institutions. In 2021, this partnership also paved way for a life skills development and rehabilitation project for children in conflict with the law or youth offenders at the height of COVID-19 in 11 regions in the country.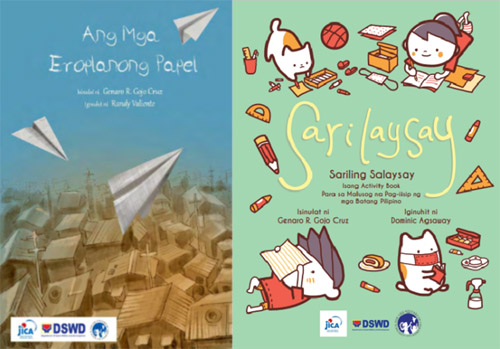 Book covers of comic book (left) and activity book (right)
for children published by JICA, DSWD, and CWC.
As we continue to transition back to pre-pandemic normalcy, the JICA-DSWD-CWC and non-profit organizations' efforts to make educational resources available could actually help these children get back on track and become productive members of society.
The electronic copies of the books will be available in our website.