The Department of Environment and Natural Resources (DENR) and Japan International Cooperation Agency (JICA) turned over approximately PHP 80 million worth of agroforestry support facilities (ASF) in Nueva Vizcaya and Quirino in Region 2 recently, while also highlighting partnership with upland communities to mitigate climate change and disaster risks.
"I hope that you are now more capable and empowered, ready to sustain our efforts in conserving our forest, protecting our environment, and mitigating climate change and disaster risks. I ask you to take care of these facilities and let these be pathway, bridge, and road for a brighter tomorrow," said JICA Senior Representative IDE Soichiro in a speech.
Said facilities are part of an 11-year development cooperation project between DENR and JICA, called the Forestland Management Project (FMP) that seeks to conserve Philippine forests in the country's three river basins (Upper Magat and Cagayan, Pampanga, and Jalaur) through community-based forestland management strategies, therefore contributing in disaster risk mitigation efforts in vulnerable areas.
The recently turned-over ASFs are among the completed 43 agroforestry support facilities in Nueva Vizcaya and Quirino, which are composed of irrigation pipeline systems, pathways, farm to market roads, and bridges. The project also assisted their 45 partner people's organizations (POs) in said provinces in developing their enterprises. They have been working also on agroforestry value chain for coffee and high value fruits, which is expected to generate further incomes for farmers. Upland farmer organizations now navigate a growing market through the mechanisms being installed by the project.
During the turn-over ceremony, partner Local Government Units expressed their appreciation to JICA's support and in maintaining the facilities together with the community. Meanwhile, DENR conveys its commitment in sustaining the efforts in the project.
FMP has developed 71,300 hectares of tree and agroforestry plantations in its sites, which are continuously being maintained and protected by its partner POs.
Other than FMP, JICA has been supporting various climate change mitigation and adaptation efforts in the Philippines, including among others, conservation of blue carbon ecosystems, environment-friendly transport systems like subway, and flood risk management projects.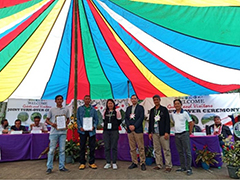 JICA, DENR, and POs representatives during the turnover ceremony.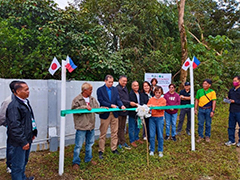 Ribbon cutting of new irrigation pipeline system in Quirino