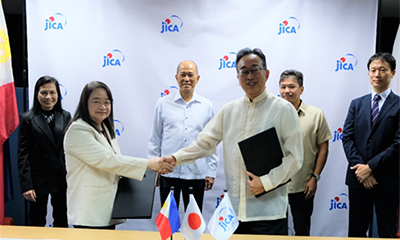 In fully recognizing the need to promote urban and regional center development focusing on efficient public transportation networks, the Japan International Cooperation Agency (JICA) signed a Record of Discussions with the Bases Conversion and Development Authority (BCDA) on 21 March 2023 to commence a technical cooperation project entitled "Project for Capacity Enhancement for Transit Oriented Development (TOD)".
The said Project aims to strengthen BCDA and other Philippine government agencies' understanding and capacities on TOD, and to implement coordination mechanisms for TOD promotion in the Philippines. This TOD concept will help maximize the benefits of railway development, where the transport network is enhanced, and urban functions are consolidated in the vicinity of the station areas. Once developed with this concept, more people will use railways to reach their workplaces, residences and commercial areas, and more people will reside and utilize residential and commercial areas around the station.
The Project will formulate TOD conceptual plans in target corridors, as well as business plans for selected model areas and stations of the JICA-assisted Metro Manila Subway Project.
During the signing ceremony, BCDA President and CEO Aileen Anunciacion Zosa highlighted the long-standing partnership between BCDA and JICA saying, "We [BCDA] are doing all of these for our stakeholders, we are not doing this just for us, we are doing this for our commuters, for the population in Metro Manila that has endured all these traffic and congestion, so I would like to not just express my appreciation but bid good luck to the Joint Coordination whose projects which are funded by the JICA in billions of pesos have provided this transportation backbone in Metro Manila, and going all the way to the North - to Clark, and all the way to the South - to Laguna. I think the JICA people has really strongly supported and has continuously worked to help the Philippines". Also, present at the ceremony was Chairperson Delfin Lorenzana.
For JICA's part, Chief Representative SAKAMOTO Takema underscored, "Based on Japan's experience, building quality transport systems with TOD concept can transform how people live and work in the Philippines. We can do it with our strong aspiration and collaboration!"
The Project will be implemented with the support of JICA Experts assigned to work closely with BCDA and other related government agencies and is expected to contribute to the improvement of the urban environment in Metro Manila as well as the promotion of modal-shift from private vehicles to public transportation systems. It will ultimately contribute to the achievement of SDGs Goal 11 (Sustainable cities and communities).
See below for further details of TOD: