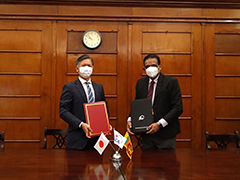 The Project for Human Resource Development Scholarship (JDS) in Sri Lanka intends to support capacity development of young officials of the Government of Sri Lanka by providing opportunities to study at reputed Japanese Universities.
A Grant Agreement was concluded between Secretary to Ministry of Finance, Mr. S. R. Attygalle and Chief Representative to JICA Sri Lanka office, Mr. Tetsuya Yamada on 29 July, 2021 at the Ministry of Finance, further accepting seventeen executive officials to Master's and Doctoral Degree courses at graduate schools in Japan on public administration, economics, disaster management, business administration and so on.
"We can never let the pandemic deprive the Sri Lankan young talents of their learning opportunities. JICA is firmly committed to providing quality higher education in Japan that we believe will have a great long-lasting impact on the country's further development." said Yamada.
Since, its initiation in year 2010, hundred and eighty eight officials belonging to various Government Services, including Sri Lanka Administrative Service, Sri Lanka Planning Service, Accounting, Medical and other related to disaster management and investment promotion has been accepted under the current cooperation framework.
"Japan has always been my dream country for higher studies . I am extremely lucky to be selected twice as a JDS scholar having completed my Master's in Japan and currently selected for the Doctoral Degree Programme based on a competitive selection process. Knowledge and experience I gained from Japan has further motivated me to learn modern innovative technologies and digital solution-based policies applied in Japan as remedies for development challenges Sri Lanka is facing as a novel middle income country.
This Doctoral Degree will help me to further acquire knowledge and skills to perform my duties more effectively and efficiently contributing to economic development process of Sri Lanka. I thank Government of Japan and JICA for providing me this great opportunity", says Mr. Amila Nawaratne, a JDS scholar who is accepted under the current cooperation framework.
To further improve the cooperation framework, JICA expects to conduct a fact finding survey this year in close coordination with the Department of External Resources of the Ministry of Finance to collect needs of the Government . It is expected that Sri Lanka Japan relationships will be further strengthened through JDS activities in coming years.
Japan International Cooperation Agency (JICA) is an incorporated administrative agency in charge of administering Japan's Official Development Assistance (ODA), is one of the world's largest bilateral aid agencies supporting socioeconomic development in developing countries in different regions of the world. Under its new vision of "Leading the world with trust" set out in July 2017, JICA supports the resolution of issues in developing countries through a flexible combination of various types of assistance methods. In Sri Lanka, Japan has been providing financial and technical assistance since 1954 and is one of the largest donors to the country. On behalf of the people of Japan, JICA contributes to improve the lives of people in Sri Lanka.