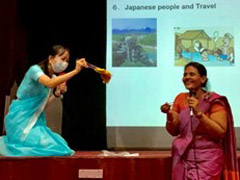 Satomi Matsuyama, JICA Volunteer organized a seminar on Japanese Culture for the Grade 11 students preparing for the ongoing G.C.E. Ordinary level examination. This seminar was held on 29th April at the Kularathne Hall of Ananda College, Colombo 10 with the participation of students from few other schools in Colombo. She conducted the seminar together with Anju Hewage, teacher in charge of the Ananda College's Japanese Association. The event was sponsored by Lanka Nippon Biztech Institute (LNBTI).
Ananda College is one of the major schools in encouraging the improvement of Japanese language skills in Sri Lanka. The Senior President of the Japanese Association of the College, Mithira Vichakshana said, "I am very proud of our Japanese Association for being able to hold this prestigious event in such a wonderful way". He also expressed his gratitude on behalf of the school and the students that participated in the session, for the effort put in and the support rendered by Matsuyama in successfully completing the seminar.
The seminar was graced by Akio Nakamoto, Senior Representative of Japan International Cooperation Agency (JICA) and Miya Katayama, Volunteer Coordinator of JICA. This event further marked the release of a Japanese cultural booklet, containing the 70th anniversary celebration logo of diplomatic relations between Japan and Sri Lanka. Accordingly, the year 2022 marks 70 years since the establishment of bilateral relations between the two nations, and event such as this would further strengthen this cooperative relationship.
Satomi Matsuyama was dispatched to Sri Lanka in January 2022 for the purpose of teaching Japanese language and Japanese culture in government schools of Sri Lanka.