144MT of Maize seeds for the Maha season cultivation which were procured in partnership with United Nations Development Programme (UNDP) was ceremonially handed over to the farmers during the special event held on 23th October 2022 in selected villages in Mahawilachchiya, Agrarian Services Division of Anuradhapura district with the participation of several senior officials from Ministry of Agriculture, Department of Agriculture, Provincial Department of Agriculture, District and divisional administration and JICA Sri Lanka office.
JICA provided the emergency assistance to provide maize seeds, which is in a severe shortage, to secure required maize production within the country mainly for the poultry industry and thereby reduce the cost of production and the retail price of poultry products such as egg, chicken and dairy products for the consumers under current economic and food crisis. It is also expected to contribute to improving the nutrition situation.
Ms. Jayantha Illankoon, Director General of Agriculture expressed that "provision of 144 MT of maize seeds to the farmers for this cultivation season will enhance farmers income as well as national maize production to cater to the demand for animal feeds and "triposha" in a reasonable proportion. On behalf of the Sri Lankan government and Sri Lankan people, I highly appreciate the contribution made by JICA. Thank you JICA, Japanese government and People of Japan for this assistance".
Ms. Yuri Ide, Senior Representative of JICA Sri Lanka office stated that "We are very happy to successfully deliver the maize seeds to the farmers by the beginning of this Maha season and appreciate all of the hard work by the officers at the Ministry of Agriculture and other relevant departments and UNDP. The successful delivery of maize seeds will be of huge help for the poultry farmers and consumers as well as the maize farmers, who are suffering for the soaring prices and shortage in the market. This year we celebrate the 70th anniversary of the establishment of diplomatic relations between Japan and Sri Lanka and we are honored to make this contribution through our longtime friendship."
As major implementation partner of this emergency assistance, Department of Agriculture has taken several technical measures to ensure the productivity and expected level of crop harvest at the end of the season. They have started to conduct demonstrations and technical training programme on hi-density maize cultivation techniques to mitigate the negative consequences of less availability of inorganic fertilizers and to increase the productivity in order to facilitate farmers to go for high yields.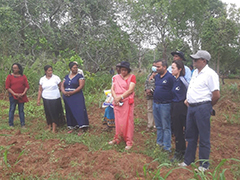 Officials from Department of Agriculture, Ministry of Agriculture and JICA Sri Lanka office in the field observation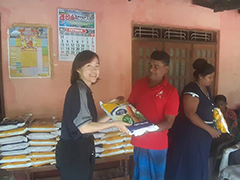 Ceremonial handing over of the 5kg maize seeds packs to each selected farmer by Ms. Yuri IDE, Senior representative of JICA Sri Lanka office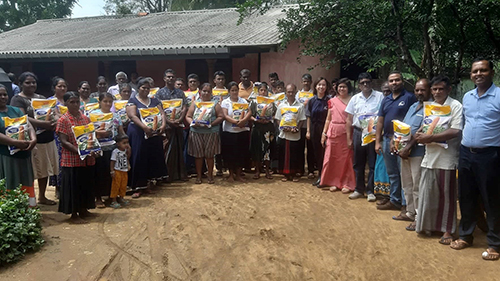 Maize farmers who received 5kg maize seed pack during the official handing over ceremony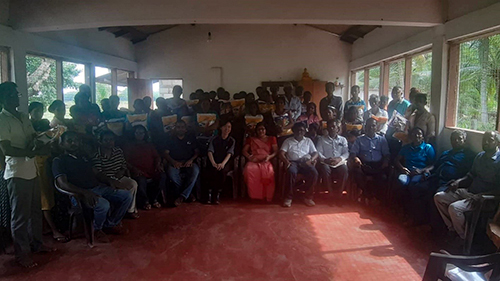 Maize farmers who received 5kg maize seed pack during the official handing over ceremony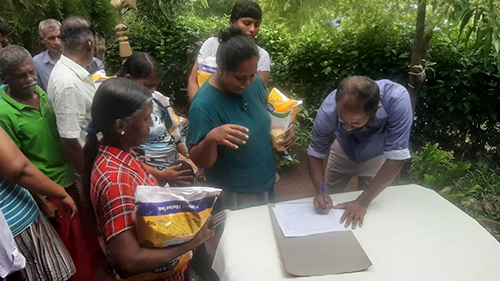 Farmer's registration of maize seeds receives by Agriculture Instructor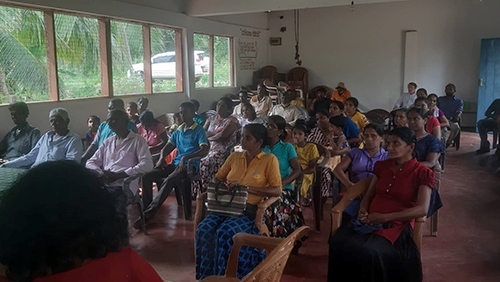 Farmers in the official handing over ceremony