Since the outbreak of COVID-19, Japan International Cooperation Agency (JICA) has made a lot of effort to effectively utilize a remote approach to its professional training courses. Despite the various challenges to facilitate its new online format, JICA Ukraine office confirmed through follow-up interviews that Ukrainian participants have successfully learned a lot of useful knowledge and skills from JICA's online training courses.
JICA's Knowledge Co-Creation Programs (KCCP) are a form of technical cooperation that JICA carries out in Japan or online during the pandemic. The KCCP is an important means of technical cooperation as some of the knowledge that Japanese society has accumulated, including its background in areas such as organizational know-how and social systems, can only be understood through the first-hand experience. Around 10,000 participants from 194 countries take part in the program annually, which certifies the training's global scale. Most of the participants are state managers - representatives of governments, governmental structures, local authorities, and municipal institutions.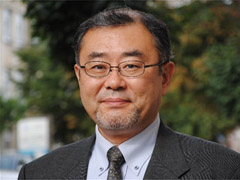 Mr. Sugimoto, Resident Representative, JICA Ukraine Office
KCCP's training courses are held on a large scope of topics concerning education, health care, management, peaceful reconciliation, social protection, transport and infrastructure, information and communication technologies, natural resources and energy, political and economic development, private business development, gender equality, agriculture, etc.
Ukraine and its neighboring Moldova, which is also under the aegis of JICA Ukraine Office in Kyiv, joined the training program back in 2000. Since then, over 1,000 of our fellow Ukrainians and over 500 Moldavians have taken part in it. Before the COVID-19 pandemic, the training used to be conducted in the traditional way: the participants were invited to Japan where they could acquire not only theoretical knowledge but also actual experience. However, the quarantine restrictions imposed all over the world made JICA significantly adjust its training activity. Now, the course designed for offline is being conducted online.
Mr. Satoshi Sugimoto, the head of JICA Ukraine Office, outlines that this approach has various positive effects even in such restricted situation. Not only the training programs continues despite the pandemic, but even a larger audience of specialists from different countries is now able to participate. Thus, it becomes easier to share the knowledge wider. More importantly, a welcoming effect is that the online format helps participants digest relevant knowledge as it enables them to do preparation and review before and after each session. In addition, we believe that it helps participants have a greater chance to think about how to utilize newly learned knowledge in their works.
One of such online training was conducted in November 2020. Its topic was "Management and Utilization of National Control Points for Efficiency of Survey". 14 participants from 5 countries: Bangladesh, Cambodia, Myanmar, North Macedonia and Ukraine attended the training course including 2 participants from Ukraine.
One of the participants from Ukraine, Ms. Anna Tkachenko, Deputy Head of Directorate on European Integration and International Cooperation of the State Service of Ukraine for Geodesy, Cartography and Cadastre, said "The training was suitable for me not only in terms of the lecture format. The course included a part for practical discussions and debates. We were sharing our experience and concerns we face in everyday work". Ms. Tkachenko also noted that the organizers paid special attention to a mechanism of attracting and enlisting supports from development partners for new projects and therefore the acquired knowledge is very important for her further cooperation with JICA and other international partners.
In order to enhance the benefit of online training program in the epidemic of COVID-19, JICA Ukraine Office will continue follow-up activities and communication with ex-participants to KCCP in order to discuss the seeds of further cooperation. JICA also hopes that, even after the COVID-19 pandemic ends, it would be possible to combine online and offline training formats. This is ideal as participants will be able to gain not only theoretical knowledge but also hands-on experience during their stay in Japan. To this end, we will continue our best effort to provide Ukrainian colleagues quality KCCP training courses.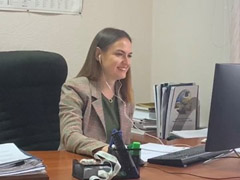 Ms. Tkachenko, Deputy Head of the Directorate on European Integration and International Cooperation, StateGeoCadastre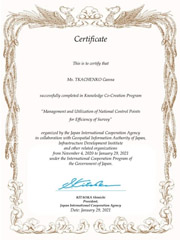 In FY2021, JICA provides Ukraine with opportunities to participate in 24 KCCP training courses. You can find a list of the courses here: JICA's Knowledge Co-Creation Programs (KCCP) - Ukraine - Countries & Regions - JICA