With the economic growth since the independence, Ukraine currently generates more than 10 million tons of municipal solid waste annually and most of them are dumped in landfill sites without appropriate treatments to reduce. Especially, in urban areas, the shortage of landfill sites has become a serious problem. In order to support the effort of the Ukrainian government, JICA dispatched Japanese experts in the field of waste management and conducted several consultations with the relevant ministries and agencies to prepare the cooperation plan including the intensive training program in Japan. This cooperation aims at institutional capacity development in the area of waste management by targeting three major cities in Ukraine, Kyiv, Kharkiv, and Dnipro.
However, in March 2020, due to the epidemic of COVID-19, it became difficult to dispatch JICA Experts and conduct a training program in Japan, and it was also necessary for JICA to totally reorganize the cooperation plan. In order to continue the cooperation with the Ukrainian counterparts, JICA has decided to conduct series of online seminars even under challenging circumstances. These online seminars, which started from October 2020, have provided a wide range of legal and technical information regarding Japan's advanced municipal solid waste management, and it is expected to be a good reference for the key staff working in the waste management field. The topics of the seminars are as follows:
1st Seminar: Outline of Waste Management in Japan
2nd Seminar: Municipal solid waste management in Japan and Europe
3rd Seminar: A Strategy to Construct Waste Treatment Facilities and Its Result in Japan
4th Seminar: Legal Structure of Waste Management in Japan
5th Seminar: Formulation of Municipal Solid Waste Management Plan in Japan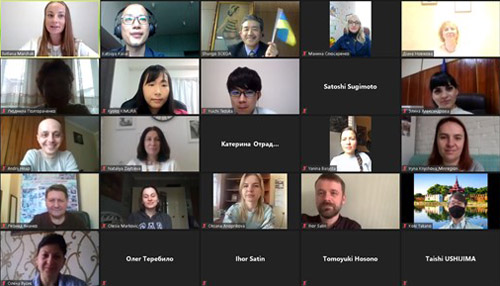 More than 20 staff from the relevant ministries and local governments participated in every seminar. They are key staff working for the tasks of municipal waste management. We JICA believe that the effectiveness and usefulness of online seminars, with their active participation with questions, such as Japan's relevant legal systems, the responsibility of local governments in waste management, technologies utilized for waste management facilities, etc.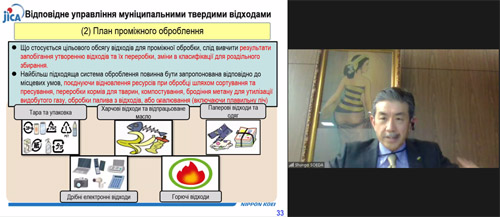 Mr. Soeda, JICA expert, explaining intermediate treatments of municipal solid wastes
Given the current challenging circumstances in the three cities, JICA believes that it is still useful and effective for Ukraine counterparts to learn from Japan's experience and know-how, accumulated through various trial and error over time, in order to enhance institutional and technical capacity for municipal waste management. Despite the difficult situation due to the pandemic, JICA will continue its cooperation with the Ukrainian counterparts through sharing Japan's knowledge and technologies, which would contribute to the improvement of the living environment for the people in Ukraine.
You can find JICA's report on "Information Collection and Verification Survey for Municipal Solid Waste Management in Ukraine" from the link here: https://libopac.jica.go.jp/images/report/12319893.pdf