Crisis Management Beyond the Humanitarian-Development Nexus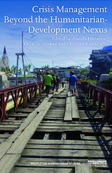 In recent years, natural disasters, armed conflict, climate change, and a variety of other crises have resulted in large-scale human suffering that extends beyond national borders. How should humanitarian crises be addressed? Humanitarian crisis management is not only an issue for the affected countries, but has become a truly global issue.
The need for the "continuum from relief to rehabilitation and development" has been pointed out since the adaption of the United Nations General Assembly Resolution 46/182 of 1991. In other words, when crises occur, providing emergency humanitarian aid is not enough, and starting prevention and development at an early stage are also highly recommended. This has extended beyond the traditional aid categories of humanitarian and development, and has led to a need for further cooperation between various actors. Despite this need, no appropriate approach was found, and aid organizations continued to search for one.
This book examined the history of and approaches to the "continuum from relief to rehabilitation and development" in policies toward humanitarian crisis management by various aid organizations and conducted six case studies of humanitarian crises to reveal practices and challenges. Three of the case studies have been selected to show that challenges of humanitarian crises management caused by conflict: Timor-Leste, South Sudan, and the Syrian crisis. The other three cases are examples that had significant impacts on the development of management of humanitarian crises caused by natural disasters: Honduras after Hurricane Mitch, the Indian Ocean earthquake and tsunami in Indonesia, and Typhoon Yolanda in the Philippines.
Former JICA Research Institute Research Fellow Oscar A. Gomez and Research Fellow Chigumi Kawaguchi participated in the writing and editing of the book.
Editor

HANATANI Atsushi, Oscar A. Gomez, Chigumi Kawaguchi

Date of issuance

October 2018

Publisher

Routledge

Language

English

Number of pages

234 page

Topics

#Peace-Building

#Climate Change Measures

#Disaster Management

#Human Security

Research area

Peacebuilding and Humanitarian Support

ISBN

978-1-138-54343-0(Hardcover
978-1-351-00682-8(eBook)

Research project