Migration, Living Conditions, and Skills: A Panel Study - Tajikistan, 2018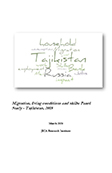 Tajikistan is the poorest country in Central Asia with an economy that is heavily dependent on migration and remittances.
Since 2006, almost two fifths of all households in Tajikistan have had at least one family member working abroad; likewise, remittances sent by migrant workers accounted for 30–50% of Tajikistan's GDP. With such high rates of migration, it is essential to understand the issues and realities that migrants and their families face in order to promote effective development policies.
This report analyzes data from surveys conducted by the JICA Research Institute in 2018 in order to study the migration situation in Tajikistan. The study aims to provide new insights concerning international development dialogue on migration and remittances, as well as the policy formulation process in Tajikistan.
The report provides an overall description of the survey data and episodes from focus group discussions according to four thematic topics: migration cycles, migration cost, migration skills, and remittances.
The report is the result of the research project "Study on Remittances and Household Finances in the Philippines and Tajikistan" conducted by the JICA Research Institute. Calling for new policies to encourage entrepreneurial action at the regional and national levels, the editors write the following in the concluding section of the report: "Although remittances are one of the main driving forces that reduce extreme poverty and income inequality among households, remittances do not contribute to entrepreneurial activities and business development so far in Tajikistan."
Editor

Enerelt Murakami, YAMADA Eiji

Date of issuance

March 2020

Language

English

Number of pages

90 page

Related areas

Topics

#Economic Policy

#Poverty Reduction

Research area

Economic Growth and Poverty Reduction

Research project