Ham Jambo!
I'm Yamada, JICA Expert assigned to "Smallholder Horticulture Empowerment and Promotion Project for Local and Up-Scaling", SHEP PLUS for short. SHEP PLUS is targeting 18 counties in Kenya to mainstream SHEP Approach in their agriculture extension service from March, 2015.
About our project:
After devolution, administration system has been decentralized in Kenya, in which each county government draw up their own administration plan and budget to be realized by themselves. We, the project, recommend SHEP Approach as one of effective agriculture extension methods to county government, supporting their capacity development by conducting trainings and consultations. Targeted counties learn SHEP Approach by implementing it in the first year. After that, they themselves draft feasible action plan with their own resources, and carry out.
Utilizing 'SHEP Resource Person'
It is a great advantage for the project to have resource persons who understand SHEP Approach well, have put into practice, and succeeded. We invite them as guest speakers to the training for county officials who will conduct the approach from now on. They can share their experiences as well as their attempts to intertwine SHEP Approach with the current extension services in their county. Those lectures by 'SHEP Resource Person' are beneficial not only for the county officers, but also for SHEP PLUS.
For example, implementing trainings with less budget. According to the training manual made by the project, 1 week is necessary for the certain training. But a county has done it for 2 days, keeping its quality. That county examined the contents of SHEP training and found out some of the contents were already covered by existing training for the extension officers. They extracted duplicate curricula to be 2 days training. This kind of practices by county governments have a great implication to the project progress since we are aiming at mainstreaming of SHEP Approach.
Madam Esther of Elgeyo Marakwet County:
Finally, let me share a part of presentation by Elgeyo Marakwet county official. Elgeyo Marakwet county is the one of the counties which have decided to continue extension service based on SHEP Approach with their own resources even after the project intervention.
"SHEP Approach is very important to the farming community as it can assist them Improve productivity and incomes. The proceeds will enable the farmers meet their basic needs, purchase farm inputs and household items leading to improved livelihoods.
Let us all embrace the approach with a positive heart"
—Madam Esther, County Director of Agriculture, Elgeyo Marakwet County.
This is what she told at the training previously mentioned. We felt her strong belief with which she promoted SHEP Approach because she believed that SHEP Approach could improve her farmers' standard of living, not because JICA project was there.
SHEP Approach was born in Kenya through technical cooperation between JICA and Kenya from 2006 to 2009. The approach is still evolving in its birthplace as a method of agriculture extension. We proceed with "make farming profitable" as our indicator, the ultimate goal of agriculture extension service.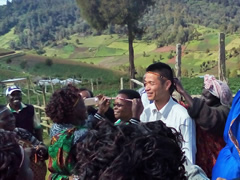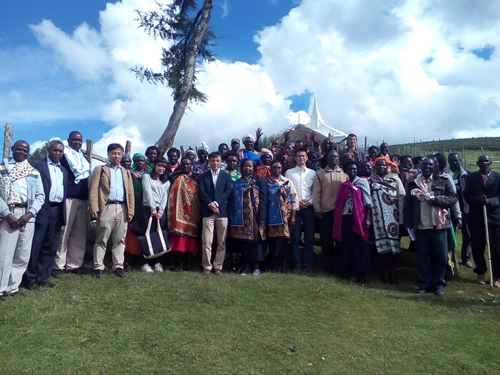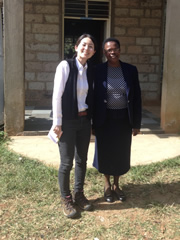 Ms.Yamada and Ms.Esther