More than 10 African counties are now implementing the SHEP project assisted by JICA Technical Cooperation. Zimbabwe is supposed to be one of them by the year of 2018. Before the beginning of the ZIM-SHEP project, the JICA detailed planning survey team visited Zimbabwe for three weeks in last September to October and surveyed two pilot sites named Principe irrigation scheme and Tsunda irrigation scheme where ex-participants of the SHEP training in Japan made a lots of effort to realize their action plan. We saw how the farmers implement SHEP activities and how much effective it for them.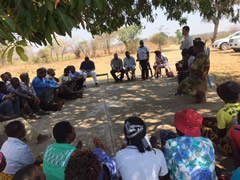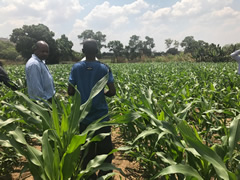 I heard such happy stories as follows;
A farmer who shows us his farm said...
"I start to plant taro and water melon because I realized these are able to sell at high price at the market by the market survey."
"After I took the Gender Workshop, I knew the importance of cooperation between wife and husband. Before that, if there is a training, either I or my wife attended, however, nowadays, we both attend the training together and work together."
"The agriculture extension staff told me how to manure the land. Before that I used to buy very expensive agriculture chemicals, but manure is cheaper than those chemicals. The Market also prefers vegetables that do not use pesticides so I can sell more at higher price."
The agriculture extension staff said that most of the farmers who implement SHEP activities in the pilot sites increased their income.
This effect can be happened only the results of effort of agriculture officers who attended the SHEP training in Japan. They did spread the SHEP knowledge as much as they can. After the technical cooperation start, I expect more positive effect will be happen whole Zimbabwe. Moreover, Zimbabwean Agriculture will more flourish.
Risa GOTO
JICA Agriculture and Rural Development Department, Team 3.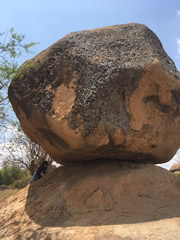 Zimbabwe balancing stone and Ms.Goto