The Horticultural Farmer's Profitability Improvement Project in the Eastern Region of El Salvador (Horti Oriente Project) is a four-year (2014-2018) technical cooperation project, and the first project to introduce the SHEP approach in Latin America. Taking into consideration the nature of the SHEP approach, we significantly emphasize the autonomy and motivation of the farmers and the counterparts. As a result, many unpredictable issues and effects have emerged.
As a tool to promote the concept of "agriculture as a business", the Horti Oriente Project prepared simple cash books and farm records to equip the farmers to manage the cash flows and the vegetable production themselves. Both books appear to have been well received by the horticultural production associations, but the response to the cash books from individual family farmers has not been very favorable. It was revealed that in most cases, the household accounts of the farmers are managed primarily by the husbands who appear to be reluctant to share the household account to their wives. Most husbands give their wives some money once a week to purchase household articles, but wives generally do not know the family's income. This is the reason why the cash books were not welcomed by household farmers. As the Horti Oriente Project focused primarily on the farmers' association during the first and second cycle of the project, this issue became apparent recently with household farmers in the third cycle of the project. It makes us think about the appropriate extent of intervention in the culture and habits of the local people.
Among plenty of unexpected issues that emerged during the project, allow us to introduce another interesting development that occurred during the project. As the counterpart of the project, the Agribusiness Division of the Ministry of Agriculture and Livestock of El Salvador is taking the lead in introducing the SHEP approach to their institutional operation and attribution of promoting the agribusiness in El Salvador. As the Agribusiness Division's scope of work involves not only horticulture but all kind of agricultural products such as apiculture, livestock and fisheries, the idea is to apply the concept of SHEP to all agricultural products. Although the project end date is approaching, the SHEP approach is constantly generating unexpected and interesting issues that are thought-provoking.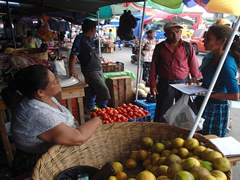 Market survey in the local market by the farmers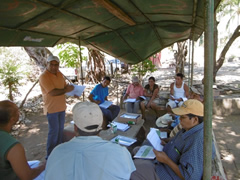 Training on cash books and farm records