"Smallholder Market-oriented Agriculture Project in Rwanda (SMAP)" was launched in October, 2014. The objective of SMAP is to increase stallholder farmers' income in cooperation with a counterpart agency which is Rwanda Agriculture Board (RAB) under the Ministry of Agriculture and Animal Resources.
Contents of Activity and SMAP Model
SMAP established Market-oriented Agriculture Extension Package (MAEP) which consists of three main components of technical training such as 1) Cooperative Management/ Gender Mainstreaming, 2) Marketing, and 3) Cultivation Technique. The annual flow of activity adopting MAEP is shown in the figure below.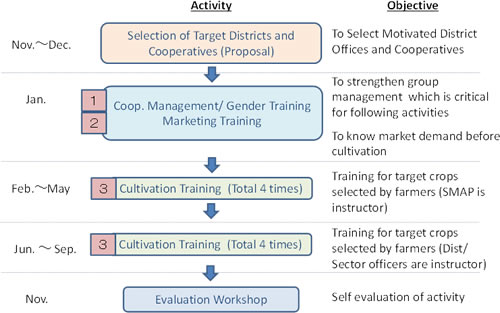 Figure: Annual Flow of SMAP Activity
Each activity is designed to be linked to the other activities so that synergy effects among the components could be expected to make a positive impact for increasing smallholder farmers' income.
Putting Priority on Motivated Group
SMAP has conducted in 3 provinces (Eastern, Northern, and Western) so far, and has selected 2 districts in each province as a target. The target districts were selected based on the evaluation of the proposal which the candidate districts submitted to the SMAP. Eventually, districts which have a strong sense of responsibility to continue SMAP activities by own efforts were selected as a target.
Same as the selection of target districts, the selection of target cooperatives was also done through proposal competition. Government extension staffs and cooperative farmers cooperated together to complete the proposal form and submit it to the district office. Therefore, the cooperatives which have a strong motivation to improve farming technology and to conduct commercial farming were selected as a target.
After participating SMAP activity, beneficially farmers appreciated SMAP activity very much because they could buy motor pumps or new houses because their net income increased dramatically. In addition to this, neighboring farmers who were watching the impact of SMAP are also encouraged to adopt SMAP activity.
Commencement of RAB-SMAP
In November, 2016, RAB launched horticulture extension activity, so called "RAB-SMAP", adopting the SMAP concept. In order to improve RAB-SMAP activity effectively, SMAP is currently focusing on RAB officers' capacity development.
In December, 2017, SMAP conducted a workshop inviting RAB officers to explain detail activities and concept of SMAP. Participates enhanced their understanding and motivation to adopt SMAP concept into their active more intensively. SMAP will continue to support RAB officers through technical assistance so that RAB will be able to continue SMAP activity after SMAP is phased out in December, 2019.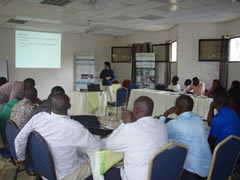 Lecture provided by Japanese expert in the introduction workshop of SMAP activity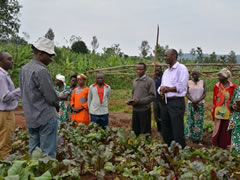 Monitoring visit of RAB officer to the target cooperative of RAB-SMAP activity