The Sindhuli Road Corridor Commercial Agriculture Promotion Project (SRC-CAP) was started in March 2015. The Project target areas are located in the hilly areas along the Sindhuli Road with a total of 160km length, which was completed by the grant aid of the Government of Japan in 2015. SRC-CAP is the first project in Asian Countries, which has adopted the SHEP approach.
Contents of the Project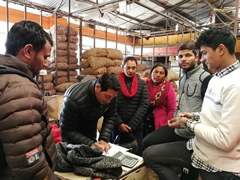 Market survey practice by a Producer Group
The Project aims to establish farming management systems with market-demand-oriented crops through the promotion of commercial agriculture in the areas along the Sindhuli Road, and to improve agricultural income of the target producers. To this end, the JICA Project Team has been working with the counterpart institution, the Department of Agriculture of the Ministry of Agriculture and Development, and the local governments of the project target areas. SRC-CAP is strengthening both the production and marketing capacities of the target producers. The target producer groups of the 1st cycle of the Project experienced around 50% increase in their net agricultural income. The Project will come up with a model to be replicated in other areas of Nepal through the implementation of its activities.
Emerging awareness
The Project could contribute to raising awareness in the target farmers and extension officers. The Project is at the beginning of its 3rd cycle and some participating producers of the first 2 cycles told us:
"I did not have any connection with buyers. But, now I have been communicating different buyers through phone to know current market prices, it is a quite new experience for me"; and
"I did not keep farm records. However, now I understand our profit is lower than expected due to high costs of inputs as results of record-keeping".
60% of the participating producers are female, and they have also experienced changes in their household economy. They commented:
"Now I make my farming plan together with my husband and other family members"; and
"I could set up a new business with the profit I made from the sales of vegetable crops".
The producers groups of the 3rd cycle just completed the market survey practice and have started to make their "Action Plans" based on the results of market surveys and other activities. One producer stated "I learned in the market survey the importance of grading of produce by size and quality. Our produce can be sold at a higher price with grading". Further, an extension officer added "we have been primarily teaching producers how to grow vegetables but we noticed that it is also important to take producers to markets so that they can learn about marketing". As getting awareness, they have been gradually changing their mind-sets and behaviors from "Grow and sell" to "Grow to sell".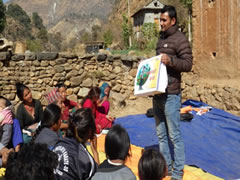 Practice in the field 1: An extension officer explains the relation between Markets and Producers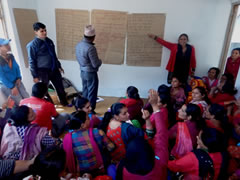 Practice in the field 2: Action Plan Making of a Producer Group