The Department of Agriculture, Land Reform and Rural Development in the South Africa has been hosting the SHEP International Workshop every year since 2013. In the workshop held in March 2021, which was held online for the first time, Agriculture Minister Angela Thoko Dizida generously took the time to participate during her business trip.
Thankfully, the workshop has motivated the Minister to disseminate and popularize the SHEP Approach nationwide and resulted in the organization of online seminars for all nine states shortly after.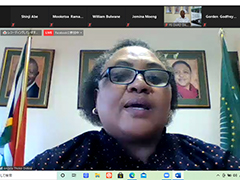 Agriculture Minister Dizida giving a speech at the SHEP Seminar
With the participation of the Minister of Agriculture and the Under Secretary of Agriculture of each state, the seminar was a great opportunity to promote understanding of the SHEP approach for senior agricultural officials in all South African provinces and prepare for the dissemination of the SHEP activity among extension staff in the field.
The main target of the seminar was small-scale farmers. To meet their expectations and develop the SHEP Approach practically in the future, JICA experts and the Ministry of Agriculture counterparts carried out an additional online training session for extension staffin all South African provinces on the 11th and 12th of August. It is our hope that the participants of this training session will train the extension staffin their prefecture, allowing more extension staff to support SHEP activities for small-scale farmers.
In conclusion, all the activities mentioned previously have been organized online. Even under the COVID-19 crisis, we will continue to use online tools effectively to expand our activities throughout South Africa. We hope more small-scale farmers would practice the SHEP Approach and improve their lives as much as possible.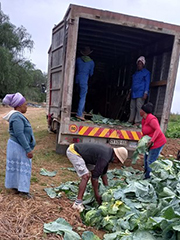 A group of small-scale farmers shippiping cabbage jointly as part of the SHEP activity during COVID-19 crisis (Eastern Cape, South Africa)