Fixed-Time, Fixed-Place Collection:
Transferring Japanese practical sense to Sudan
Khartoum, the Sudanese capital city, with a population of some 6 million, generates approximately 5,000 tons of solid waste per day, much of which is not collected properly. To help rectify the situation, JICA has been working to improve the sanitary conditions of the capital by improving waste-related public services, from collection and transportation to final disposal. This project involves a number of measures to increase the waste collection rate. They include the provision of 100 collection vehicles and the introduction of the Japanese method of collecting waste at a fixed time and place.
Collection Vehicles Decorated with "Captain Tsubasa" Stickers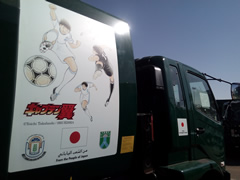 A waste collection vehicle decorated with a Captain Tsubasa sticker.
© Yoichi Takahashi/SHUEISHA Inc.
In Sudan, the Japanese comic book character "Captain Tsubasa" is well known among Sudanese people. The collection vehicles provided by the Government of Japan are decorated with Captain Tsubasa stickers, attracting the attention of local residents. This arrangement is expected to raise both public interest in waste collection and public understanding of the need for such collection.
Making Neighborhoods Clean with Community Power
A Japanese Expert Team and Sudanese counterparts has been working together to ensure that the fixed-time, fixed-place collection system would take root in the capital. Activities to this end include introducing the system to local residents, improving methods of taking out the garbage, and optimizing the collection routes.
Women's communities in the city's neighborhoods have begun to take action as well. They are now calling on local residents to clean up the streets or lanes in front of their homes for community beautification and providing guidance on how to take out the garbage to the collection points. Voluntary cleanup activities at collection points have been launched.
Although the behavior of the residents will not change in a day, it is gradually and steadily changing as the experts, local authorities, and communities take opportunities to meet and discuss the issue.