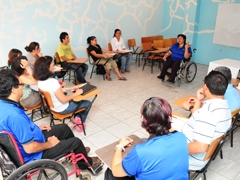 People with disabilities who have joined JICA training on empowerment became empowered instructors to pass their experience to others.
"We All are from the Same Earth" – Promoting Community Participation of People with Disabilities in Costa Rica
The Republic of Costa Rica, in Central America has a population of 4.57 million and the disability ratio is approximately 5% (2000 Costa Rica National Census). JICA has been supporting persons with disabilities in Costa Rica since the mid-1980s by dispatching Japan Overseas Cooperation Volunteers (JOCV). To take the next step, a Technical Cooperation project called "the Reinforcement of the Integral System of Rehabilitation with Community Participation in Brunca Region of Republic of Costa Rica, with Focus on Human Security" (known as the Kaloie Project, which means "We All are from the Same Earth" in Spanish ), started five years ago in 2007. The goal was to establish a model mechanism to promote participation of people with disabilities in Costa Rica. The Government of Costa Rica plans to use the model in the Brunca region in order to expand it throughout Costa Rica.
Costa Rica enacted the Equal Opportunity Act for Persons with Disabilities in 1996. However, there was little progress on cooperation among health and medical care, education, labor, and other agencies. There was also a shortage of technologies for medical rehabilitation, difficulties with having communities gain an understanding of people with disabilities and other problems. The result was inadequate social services, making it difficult for them to become members of the community.
To deal with this issue, Costa Rica formed a National Council for Rehabilitation and Special Education of Costa Rica (CNREE) made up of people from related government ministries and agencies. The plan was to create a model in a pilot site and the mechanism would then be used nationwide. Costa Rica asked for Japan's cooperation to support these activities.
In 2006, JICA conducted a preparatory survey in the Brunca region, the potential pilot site to the southeast of the capital city of San Jose. The region has a high poverty rate as well as a large number of people with disabilities.
Then the Kaloie Project started in 2007. The first step was establishing a framework to enable many sectors to be involved under the theme of community participation of people with disabilities. For networking these sectors, a committee that consists of national and local government officials, health care professionals, people with disabilities and others was formed. Upgrading medical rehabilitation services was another step. This involved the provision of rehabilitation equipment and training for physical therapists and other specialists. Furthermore, JICA experts with disabilities were sent to Costa Rica and people with disabilities from Costa Rica came to Japan for Independent Living Training and other training. These activities were all aimed to empower people with disabilities in Costa Rica.
As a result, empowered people with disabilities in Costa Rica who learned their rights and responsibilities started to participate in community activities. Then agencies and medical institutions can accurately identify their needs, which leads to improvements in social and medical services for people with disabilities.
The Government of Costa Rica has incorporated the concept of "inclusive development" in its National Development Plan and is currently extending this model to all areas of the country.