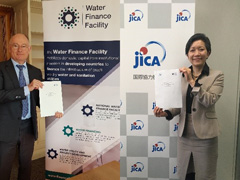 At the time of signing
Water Finance Facility and JICA announced today the signing of a Memorandum of Cooperation (MoC) that will help foster the development of blended finance and strengthen the cooperation, as well as promote a stronger partnership, in order to contribute to the SDGs.
The MoC serves as the foundation for future cooperation in the areas of strategic dialogue, knowledge sharing, intellectual co-creation and operational collaboration for the promotion of financing the water supply and sanitation sectors in developing countries through mobilization of public and/or private funds.
About the JICA
JICA, in line with Japan's Development Cooperation Charter, works on human security and quality growth; JICA contributes to the promotion of international cooperation and to the sound development of Japan and the international socio-economy by contributing to the development or reconstruction of the economy and society, or economic stability of developing regions.
About the Water Finance Facility (WFF)
WFF is a limited liability company (ultimately fully owned by Stichting Cardano Development, a foundation with a charitable status as an "institution for general benefit" (algemeen nut beogende instelling, ANBI)). WFF works on organizing private financing of infrastructure projects for water and sanitation utilities, incorporating the provision of project development and transactional support and including the arranging of credit solutions which make the financing of such projects possible and attractive to local currency institutional investors, thereby contributing to the development of their domestic capital markets.