JICA has been implementing the "The Project for Strengthening the Capacity of Water Service Management in Jenin Municipality" since September 2017 in Jenin, Palestine. The main objective of this project is to strengthen the capacity of water service management through various activities which include improvement of waterworks management, customer service and water supply conditions, reduction of non-revenue water (water that cannot be billed due to leakage, defective meter, etc.), replacement of water meter with prepaid water meter (PPWM), and improvement of the revenue collection. Now there have been many visible outcomes of the project.
In March 2020, due to the COVID-19 pandemic, water revenues in Jenin declined, further exacerbating its financial situation. This also affected the procurement of chlorine, which is essential for supplying safe water to citizens. At the end of April 2020, Jenin Municipality had only about two weeks of chlorine in stock, and due to financial difficulties it was not able to secure funds to purchase chlorine, so there was a risk that it might not be possible to supply safe water to the citizens. Under these circumstances, and upon an urgent request of the Jenin Municipality, JICA procured 10,000 kg of liquid chlorine (for about 4 months) and 6 chlorine injection pumps through the project (Figs. 1 and 2). Chlorine was urgently procured, and the first lot was delivered before it was out of stock, allowing Jenin Municipality to continue to supply safe water.
In addition, the PPWM introduced in the project was very effective even in the COVID-19 pandemic situation. Payment from regular post-paid meter users had dropped significantly, but payment from PPWM users was stable and was used to maintain water services. To help Jenin Municipality respond to the pandemic, JICA also provided plumbing materials for leak repairs and PPWM installation. JICA also provided a van to help customer service works of the water supply department during the pandemic.
At the end of May 2021, the project had completed the installation of approximately 3,200 PPWMs, of which 1850 were provided by JICA and the rest were procured by Jenin Municipality. Customers have shown a positive response to the installation of PPWM. One resident living in Sabah Al-Khir in the city reported, " At the beginning, I was not convinced to install the PPWM and had no idea about this meter, but after installation, the experience has been excellent and charging of the meter is easy. I thank Jenin Municipality and JICA and recommend everyone to install PPWM." Following the good results of PPWM, Jenin Municipality is procuring 4,350 PPWMs with the support of JICA to expand PPWM to the whole city.
With repeated support from JICA, Jenin Municipality has set up billboards at three locations at the entrance of Jenin to publicize the activities and achievements of the project and JICA's support (Fig. 3). The billboards show activities aimed at strengthening the water management capacity of Jenin Municipality, which is the project goal (Fig. 4). Along with these messages, the billboards also display a thank-you message from the people of Jenin written in Arabic as "شكرا اليابان: Shukran al-Yaban,", meaning "Thank you Japan."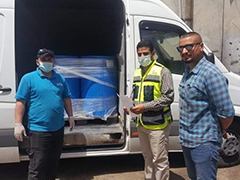 Procured Chlorine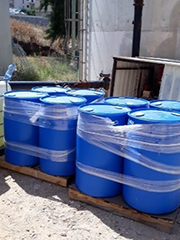 Procured Chlorine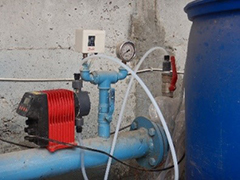 Chlorine Injection Pump installed in a well

Billboards installed in 3 entrances to Jenin City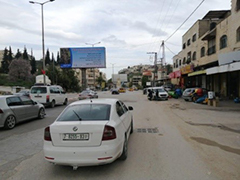 Billboards installed in 3 entrances to Jenin City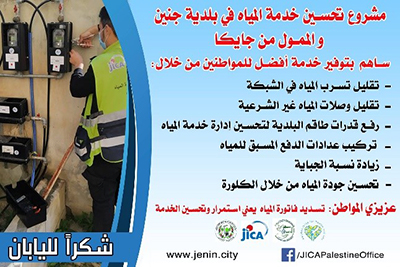 Contents of Billboard
THE PROJECT FOR STRENGTHENING
THE CAPACITY OF WATER SERVICE MANAGEMENT
IN JENIN MUNICIPALITY - FUNDED BY JICA
Contributes to provide the customers with better services by:
Reduce water leakage in the network
Reduce illegal water connections.
Increase the capacity of Jenin Municipality staff to improve the management of water services.
Install prepaid water meters (PPWM).
Increase revenue collection ratio.
Improve water quality by using liquid chlorine.
Dear customers: Payment of your bills leads to better and sustainable services.
Thanks to Japan