Cambodia
Primary Education Project in Kampong Chhnang Province, Cambodia
Foundation for International Development/Relief
(July 2004 - March 2006)
[Case Study: 1]
Ms. So Sotia (49), Trainer[1], District Education Office (DEO) Kampong Tralach District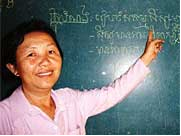 In 2005, the last fiscal year of the project, Kampong Tralach District Education Office (DEO) conducted trainings on "how to make teaching materials and how to use them." Even until then, the DEO staff, as trainers, had given trainings to teachers, but they were just one-day training sessions that used the teachers' weekly training day. Therefore, it was the first time for the trainers to plan and conduct by themselves such a long training period of 5 days.
"I wanted to make the training as useful as possible for the real practice of teachers." Ms. So Sotia was one of those who played an important role in making the textbook for this training. She is one of the experienced trainers in the district and has the experience of being trained by the Ministry of Education, Youth and Sport (MoEYS) before this project. "I have attended several trainings, but I can't say that I could get enough knowledge and techniques at those times. Training periods were short and the number of trainings was few. Even when I attended trainings, detailed explanation wasn't given most of the time but just a summary. Informational documents were provided, but I was told to read it and learn it by myself later. To tell the truth, there were some parts I could not understand at the time just by reading. Therefore, when I gave training to teachers, I think I was just reading the contents as they were written in documents.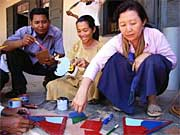 Now, after the trainings in this project, she seems to have more self-confident as a trainer. She says that she did not find so much difficulty in making the textbook for the 5-day training of "creation and use of teaching materials." She tried to use several resources to collect information to avoid information bias. She used the educational brochure provided by MoEYS, as well as the materials that had been used in the trainings she took in the past. She also visited a kindergarten located in front of DOE and developed ideas from what the children always make and play with. She had many discussions with her colleagues. "I knew this kind of information was around me, but I have never used that information like this time," she said.
She told us about her experience when she attended the training on "children-centered lessons" held by Provincial Education Office in March 2005. "During the training, a task was given to formulate a lesson plan to focus not on the teacher's activity but on the children's learning activities. I could finish the task the fastest of all the participants and was asked to make a presentation on my plan in front of other participants. At the end, when all others' plans were completed, mine was selected as 'the model lesson plan in the province'."
"I had just been attending trainings and listening to other participants in the past. But now, I can present my opinions in front of others without hesitation and can work on training tasks. I think I can do it in the same manner in the meetings both at the provincial and at the national level.
[1] With this project, DEO staff as trainers gave trainings to teachers and had instruction tours to provide knowledge on general pedagogy and teaching techniques to teachers.
[Case Study: 2]
Mr. Pe Sari (26), Teacher, Wat Thmei Primary School
Seb Cluster, Kompong Tralach District
In the classroom of Mr. Pe, formerly, only his voice could be heard during lessons. The children were sitting with their heads upright and listening silently to what the teacher was saying. Getting the opportunity for training through the project, Mr. Pe began to think what he should do to have the children get interested in learning.
"In the lesson, I ask the children at first 'Which are the adjoining provinces of Kompong Chhnang Province?' Then, I ask them questions such as 'Kompong Chhnang Province has people from various countries. Which countries are they from?' and 'What are the specialty products of Kompong Chhnang?' one question after another. Through the training, I learned that this way of questioning could foster children's ability to think."
Mr. Pe says that he had used in his lessons the question "Which are the adjoining provinces of Kampong Chhnang Province?" that has long been in the teacher's guidebook for textbooks. He, however, has started to think up additional questions that are related to this question or ones that use examples children are familiar with.
He says that he feels his change has been influencing the children. An example is group lesson in his class. Once, if he gave a problem to think about to each group, only two children among eight were solving it and others were just observing the two. But now, each one of them participates in solving a problem. "I give a problem to the children in the way that all of them can understand. Also, I try to prepare sufficient teaching materials for each of the students to participate in the work."
He has experienced the situation where about 10 children were absent from his class per day. At present, however, all the children come to school every day. Furthermore, the rate of promotion, which was 55% in 2001, has risen to 85% last year.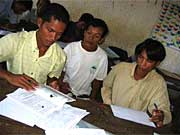 His relationship with his colleagues has also changed. He says he had almost no relationship with other teachers, especially with senior experienced teachers, before participating in the project. Therefore, he often worked all by himself. Such a situation, however, has changed through the activity of class demonstrations. In this activity the teachers of the cluster observe a demonstration of a teacher's lesson and they learn how a good lesson should be by pointing out what they noticed and exchanging opinions. For Mr. Pe, this demonstration activity was a time that was quite interesting and, at the same time, one that took a lot of nerve. He was too timid to make a comment to the senior colleagues since he thought he was too young and inexperienced. Therefore, he could not speak up during the first several meetings and was just listening to other teachers' statements. Then, one day, he summoned his courage to present his opinion in front of others. "I had thought that no one would listen to me, but one of the teachers responded to me and said, 'I think so too.' Since then, I'm not afraid of expressing my opinion in front of others. In the sense that I can exchange opinions and experiences with various people, I strongly feel the merits of working on a matter with other teachers," Mr. Pe says.
He says that there is another big visible change among the children of his class. "They can tell their own dreams now. Before, many of them could not answer to the question, 'What do you want to be in the future?'"
Mr. Pe intends to deepen the relationship with the community people and the parents of the school children. This is because their cooperation is indispensable for the children to get better education. He firmly believes that education has the power to realize children's dreams.
[Case Study: 3]
Mr. Rot Bunthoeun (36), Teacher, Aline Primary School
Chrey Bak Cluster, Rolea Pa-ier District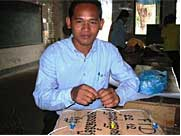 "I became a teacher in 1989 in Kampong Cham Province. I had longed to become a teacher, so I was glad when I received an offer from a school principal. At that time, I was 19 years old, just finished high school. As a start, the principal gave me several materials for reference, but I began my teaching career without either taking a test to be a teacher or getting teacher training."
The place where Mr. Rot was living at the time was a remote up-country area where many Khmer Rouge soldiers still remained and the situation was still unstable. It was the time that, in village schools, principals employed everyone who had a certain degree of education as a teacher to make up for the lack of teachers. In Mr. Rot's school, about half of the teachers, including himself, did not have teacher certificates. "Among the 5th graders, there were people older and bigger than me. Under such circumstances, I did not have ability and confidence as a teacher, but I managed to continue teaching. Yet, the children did not complain to me at all. Children in those days knew manners and were disciplined."
When he moved to Kompong Chhnang Province with his family, he took the government's teacher training for the first time. However, even the chance given after such a long time was as short as three months. "Although a long time had passed since I became a teacher, I felt limited in my ability and techniques as a teacher, because I had not received any proper teacher training. Even though I had the desire to make the situation better, or to become better, I myself did not know what to do."
Since the beginning of this project, various training sessions and workshops were held for teachers of this region. He was one of the teachers who attended in all of them. He says that he could get the knowledge and techniques as a teacher through these activities. He proudly says that, above all, he could get confidence.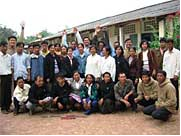 In 2004, the teachers of Chrey Bak Cluster selected Mr. Rot as the head of the 6th grade[2]. Mr. Rot, who is good at leading a group in a fashion that every one can work on a matter in cooperation, says that his long-time experience of being in charge of 6th graders' lessons and his ability in leadership in various activities might have been recognized.
"Recently, I feel I am truly a happy man. It's extremely enjoyable for me to go to school and teach children every day."
He wants children to get better education. His dream is to further improve his ability in the future and to share it with other teachers and young people leading the next generation.
[2] In the cluster, there is a head for each grade. They are selected from among the teachers as a leader of the teachers in charge of the same grade, and play the role of guiding and giving advice to other teachers especially in technical aspects of teaching.