Shimla, June 29, 2019: The 5th Joint Coordination Committee (JCC) meeting of the Japan International Cooperation Agency (JICA) supported Project titled 'Phase II Project for Crop Diversification in Himachal Pradesh' was organised Government of Himachal Pradesh (HP) at Shimla. The Technical Cooperation (TC) Project that commenced in July 2016 increased and stabilized farmers' income through crop diversification as per agro-ecological conditions in Bilaspur, Hamirpur, Kangra, Mandi and Una districts of the state.
Mr. Onkar Chand Sharma, Principal Secretary (Agriculture), Government of Himachal Pradesh; Mr. Rajinder Verma, Director of Agriculture, Government of Himachal Pradesh; Mr. J.C. Rana, Chief Project Advisor, Himachal Pradesh Crop Diversification Project (HPCDP); Dr. V.K. Sharma, Project Director, HPCDP; Mr. Yoshiyuki Ishizaki, Chief Advisor, HPCDP; and JICA India attended the JCC meeting, amongst others.
Speaking on the occasion, Mr. Yoshiyuki Ishizaki, Chief Adviser, HPCDP said, "The Project understands the need to develop sustainable agricultural solutions in India and it provides strategic counsel on crop diversification methods for agricultural practices. Farmers have now learned to produce various kinds of vegetable which they did not know before the Project started. Now, with the help of new techniques the farmers have been experiencing high crop intensity. The Project reaffirms its commitment to contribute to increasing farmers' incomes in a sustainable manner. In the 5th JCC, the way of knowledge transfer and capacity building of the extension officers were intensively discussed, as these are the key to sustain the project benefit.
In Phase II of the TC Project, JICA experts assisted farmers with vegetable farming, water management, post-harvest activities and marketing, and worked towards gender empowerment and social inclusion. The Project also included training in Japan for management level functionaries, field- level officers and members of Krishak Vikas Associations (KVA).
The Government of Himachal Pradesh and JICA's collaboration in the field of Crop Diversification started in 2007, when 'The Study on Diversified Agriculture for Enhanced Farm Income in the State of Himachal Pradesh' was inaugurated.
JICA has been supporting the State of HP for more than 12 years for crop diversification. In 2016, JICA had signed an ODA loan of 5,001 million Japanese Yen (approximately INR 300 Crore) for the Himachal Pradesh Crop Diversification Project. The ODA Project has 210 sub-projects of minor irrigation facilities, farm roads and promotion of vegetable cultivation, which cover a cluster of villages under each site. The aim is to help enhance farmers' income through crop diversification by providing them assured irrigation.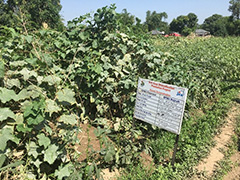 Farm Field of Sub Project in Kangra District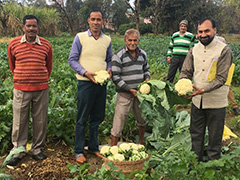 Farmers with their produced crop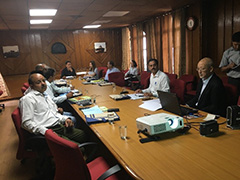 JCC Meeting of the Crop Diversification Project
About JICA
Established by a specific law as an incorporated administrative institution under the Government of Japan, the Japan International Cooperation Agency (JICA) aims to promote international cooperation as the sole Japanese governmental agency in charge of ODA implementation. JICA is the world's largest bilateral donor agency. JICA works as a bridge between Japan and emerging countries, and provides assistance in the form of loans, grants and technical cooperation, so that the emerging countries can strengthen their capabilities.
For further information, please contact:
JICA India Office
Yuko Shinohara/Vini Sharma
+91 11 49097000
Shinohara.yuko@jica.go.jp
sharmavini.id@jica.go.jp