Tripura, August 9, 2019: The one-day workshop on "Production and Industrial Use of Bamboo: Issues, Prospects and Challenges" was held in Tripura. After the first workshop which was held in August 2018 with a focus on bamboo handicrafts, this second workshop focuses on expansion in production, industrial use and value chain management of bamboo. JICA has been extending the ODA loan to Tripura state in implementation of forestry projects and "The Project for Sustainable Catchment Forest Management", launched in 2018.
Mr. Biplab Kumar Deb, Hon'ble Chief Minister, Tripura; Dr. U. Venkateswarlu, Chief Secretary, Tripura and Mr. Mevar Kumar Jamatia, Hon'ble Forest Minister, Tripura delivered their opening remarks as the Chief Guests. Professor Shozo Shibata from Kyoto University was invited as the special guest speaker, spoke about his research outcomes on bamboo species in Mizoram state as well as the opportunities for collaboration between Japan and India in the bamboo sector. In addition to the Government officials and Japanese representatives, many experts and practitioners of the sector addressed the audience on both production and value addition aspects.
The major objective of the workshop was to showcase the innovations and opportunities in bamboo production and business development in North East states that would facilitate partnership in both public and private sectors.
Dr. Tetsuya Uetake, First Secretary of Embassy of Japan said, "The Governments of both countries have focused on boosting growth in the north-eastern region under the framework of Act East Forum. In view of the significance bamboo plays in the region, strong emphasis shall be laid on enhancing the production base and value addition of bamboo.
Adding to this, Mr. Toru Uemachi, Senior Representative of JICA India said, "Reflecting the policy of both governments, JICA will continue collaborating with states in capacity building of people utilizing bamboos as well as vigorously exploring the possibilities in improving value chains and in connecting the Indian and Japanese business in the bamboo sector.
In October 2018, JICA signed an agreement with the Government of India to provide an Official Development Assistance (ODA) loan of 12,287 million Japanese Yen (approximately INR 750 Crore) for the Project for Sustainable Forest Management Project in Tripura. The Project aims to improve quality of forests in the targeted catchment area by imbibing sustainable forest management practices, soil and moisture, thereby contributing to development of forest ecosystem services and livelihood improvement of forest dependent communities in Tripura.
Projects activities include promotion of bamboo plantation, agroforestry based livelihood, eco-tourism development, development of value addition for bamboo and other Non-Timber Forest Product (NTFP) in order to create alternate livelihood opportunities for local communities.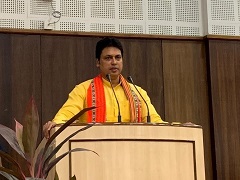 Mr. Biplab Kumar Deb, Hon'ble Chief Minister, Tripura while addressing the audience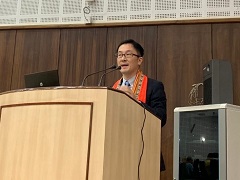 Dr. Tetsuya Uetake, First Secretary of Embassy of Japan spoke of the significance of bamboo in the North East Region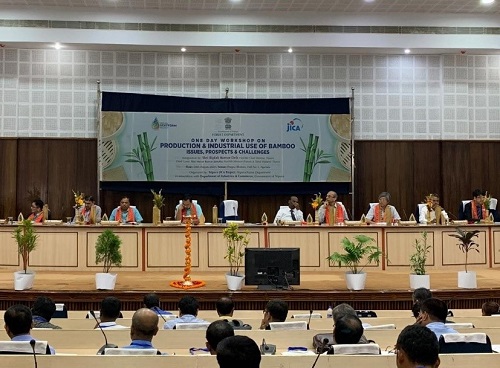 Dignitaries sitting at the dais at the workshop
About JICA
Established, by a specific law, as an independent administrative institution under the Government of Japan, the Japan International Cooperation Agency (JICA) aims to contribute to the promotion of international cooperation, as a sole Japanese governmental agency in charge of ODA implementation. JICA is the world's largest bilateral donor agency. JICA works as a bridge between Japan and emerging countries, and provides assistance in forms of loan, grant and technical cooperation so that the emerging countries can strengthen their capabilities.
For further information, please contact:
JICA India Office
Yuko Shinohara/Vini Sharma
+91 11 49097000
Shinohara.yuko@jica.go.jp
Sharmavini.id@jica.go.jp