New Delhi, August 9, 2019: Under the ongoing JICA Technical Corporation (TC) Project 'Capacity Development on Railway Safety', in continuation with site survey of Rolling Stock Maintenance conducted last week, JICA Experts for Railway Safety Management and Track Maintenance implemented site survey with Indian counterparts this week in order to deepen mutual understanding of methodology and practice for Safety Management and Track maintenance in India and Japan.
JICA Expert team for Railway Safety Management visited New Delhi Railway Station and Indian Railways Institute of Transport Management in Lucknow to understand the actual procedures of works carried out in station area and attended the seminar on safety management meant for Railway's Chief Safety Officers to exchange views on the forthcoming training program in Japan. Parallelly, JICA Expert team for track maintenance visited Operation Control Office in Delhi, Training Centre in Ghaziabad, and Station/Yard tracks in Ghaziabad, Tughlakabad and Ambala to observe track condition and discussed the status of the quality of track maintenance work and issues for improvement of Indian Railways.
Speaking on the occasion Dr. Makoto Ishida, Chief Advisor of JICA expert team who led site survey of Track Maintenance in this week said, "Indian side requested to be informed of the better practice of track maintenance under limited track possession time efficiently. In this site survey, the idea of improvement regarding track maintenance in Indian Railways has been identified. Track maintenance group training program in Japan scheduled in October this year will be organized based on our discussion. We hope that this training program in Japan serves as a good opportunity for Indian Railways officials to understand Japanese knowledge and experience and to draft their action plan to improve maintenance and safety management work regarding technical, structure implementation and mind set point of view. "
This TC project is to be implemented during the next one and half years. The first training program in Japan in the field of Accident Investigation was conducted in early July 2019. Another four training program in Japan in the field of Rolling Stock Maintenance, Rail Welding, Track Maintenance, Safety Management will be conducted within the current fiscal year 2019.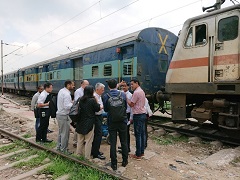 Indian officials and JICA experts while having a discussion at the site.
About JICA
Established by a specific law as an incorporated administrative institution under the Government of Japan, the Japan International Cooperation Agency (JICA) aims to promote international cooperation as the sole Japanese governmental agency in charge of ODA implementation. JICA is the world's largest bilateral donor agency. JICA works as a bridge between Japan and emerging countries, and provides assistance in the form of loans, grants and technical cooperation, so that the emerging countries can strengthen their capabilities.
For further information, please contact:
JICA India Office
Yuko Shinohara/Vini Sharma
+91 11 49097000
Shinohara.yuko@jica.go.jp
Sharmavini.id@jica.go.jp