New Delhi, September 8, 2019: There are millions of children in the world who still have difficulties to access primary education. There is a tremendous scope of improvement in uplifting the quality of education, bringing accessibility, building awareness, adequacy of educational infrastructure, and so on. Japan International Cooperation Agency (JICA) engages in promoting literacy in the world by collaborating with India and utilising its experience in the field of education.
In Africa, approximately 61 million children, or about 20 percent, are unable to attend primary and lower secondary school. In addition, approximately 200 million children, or nearly 90 percent, do not acquire minimum proficiency levels in reading and mathematics (UNESCO, 2017). To improve the quality of children's learning, JICA has been in partnership with Pratham, one of the largest educational non-governmental organizations in India, and with J-PAL (Abdul Latif Jameel Poverty Action Lab), a global research center established at the Department of Economics at the Massachusetts Institute of Technology (MIT). Since 2017, JICA and Pratham have co-organized experience sharing seminars and technical workshops in India, Madagascar and Niger to develop effective and scalable solutions to the so-called "Learning Crisis", based on JICA-developed "School for All" model and Pratham's "Teaching at the Right Level (TaRL)" method. Today, unique approaches and experiences of JICA and Pratham, such as innovations for improving the quality of children's learning through collaboration among parents, teachers and communities, and effective learning techniques for literacy and numeracy, are realizing transformation in the school in Africa.
Speaking on the occasion of International Literacy Day, Mr. Katsuo Matsumoto, Chief Representative, JICA India, said, "We recognize India as one of JICA's most important development partner and not just a simple recipient country of Japanese assistance. We respect unique knowledge and experiences of Indian development and are thankful to have this partnership with Pratham and J-PAL. This partnership enables to develop effective models for improving student's literacy and numeracy skills in Africa. This cooperation between Indian NGO and African countries is also in line with the concept of "Free and Open Indo-Pacific Strategy", to improve connectivity between Asia and Africa through free and open Indo-Pacific, and promote stability and prosperity of the region as a whole."
JICA first launched the "School for All" Project in Niger in 2004 in order to seek the solutions for severe learning crisis. Later, this approach has been scaled up in other countries such as Senegal, Mali, Burkina Faso, Côte d'Ivoire, Madagascar and Ghana, reaching around 45,000 primary schools so far. Over the last two decades, the number of children with access to primary education in sub-Saharan Africa has increased substantially. Despite the great leap forward, improving the quality of school education continues to remain a great challenge in sub-Saharan Africa.
On the basis of the partnership, Pratham, J-PAL and JICA will work on further development and implementation of innovative models for improving literacy and numeracy abilities among children. These efforts will also contribute toward the achievement of Sustainable Development Goal 4, "Improve Quality of Education and Promote Lifelong Learning."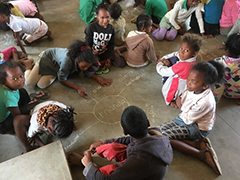 Mind mapping: An educational method to develop capacity to express, increase vocabulary and create sentences. Children write down the words associated with the key word in the center, developing their capacity to create sentences.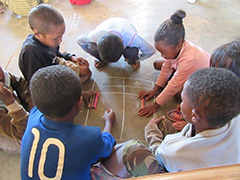 Practice of addition and subtraction with bar-shaped tools: 10 bars (such as straws) are bound as 1 set and, in accordance of teacher's explanation, children add and subtract the bars. The bar helps children to understand the notions of composition/decomposition of 10, borrowing and carrying over etc.
About JICA
Established by a specific law as an incorporated administrative institution under the Government of Japan, the Japan International Cooperation Agency (JICA) aims to promote international cooperation as the sole Japanese governmental agency in charge of ODA implementation. JICA is the world's largest bilateral donor agency. JICA works as a bridge between Japan and emerging countries, and provides assistance in the form of loans, grants and technical cooperation, so that the emerging countries can strengthen their capabilities.
For further information, please contact:
JICA India Office
Yuko Shinohara/Vini Sharma
+91 11 49097000
Shinohara.yuko@jica.go.jp
Sharmavini.id@jica.go.jp