New Delhi, September 27, 2019: India ranks 34th amongst 140 countries as per The Travel & Tourism Competitiveness Report 2019 published by the World Economic Forum[1]. It is the highest-ranked South Asian country but with its rich heritage and distinct culture it has capability of featuring in top 20 countries in the future. To achieve such result, improvements in areas such as tourist experience driven by service infrastructure and environmental sustainability are required. JICA aims at contributing towards tourist's overall experience and services in India to promote the sector, along with robust social and economic growth.
For development and enhancement of better tourism services, JICA has worked on Uttar Pradesh Buddhist Circuit Development Project, Ajanta-Ellora Conservation and Tourism Development Project and Varanasi International Cooperation and Convention Centre.
Uttar Pradesh Buddhist Circuit Development Project which was executed in early 90's, aimed to promote tourism development in the Buddhist Circuit in Uttar Pradesh and Bihar. The project developed basic infrastructure, including roads, power supplies, water supplies and drainage systems, visitor centers where tourism information is provided, local products are sold, and tourists can take rest. It implemented programs designed to protect ruins and promote tourism, thereby contributing to regional development and poverty reduction. The project includes development of Buddhist centres situated at Sarnath, Kushi Nagar, Kapila Vastu, Sravasti, Sankisa in Uttar Pradesh, and Bodh Gaya, Nalanda, Rajgir, Vaishali in Bihar.
Ajanta-Ellora caves are the finest surviving art of ancient Indian art. JICA is focused on preserving such art through monument conservation and infrastructure development. With an ODA loan of 3,745 million Japanese yen (approximately INR 230 Crore, JICA has implemented project with Maharashtra Tourism Development Corporation (MTDC), Ministry of Tourism (MOT), Government of India (GOI), Archaeological Survey of India (ASI) and Airport Authority of India (AAI).
Ellora is a UNESCO World Heritage Site, just like Khangchendzonga National Park which comes under the biodiversity component of JICA-supported Sikkim Biodiversity Conservation and Forest Management Project. JICA has supported the project in Sikkim since 2010 and will continue to support it to protect the nature and the value in Sikkim for its future generations.
JICA is also supporting "The Project for Construction of the International Cooperation and Convention Centre in Varanasi" which was mentioned in the Japan-India Joint Statement in November 2016 where Prime Minister Modi had appreciated Japan's efforts to support the construction of the Convention Centre in Varanasi and recognized its symbolic importance as a sign of strengthening bilateral ties. JICA signed a Grant Agreement in 2017, with the Government of India to provide grant aid of up to 2,240 million yen (approximately INR 130 Crore) for the project.
VCC is a sophisticated convention centre, the facilities of which is aimed at nurturing cultural and social exchanges and knowledge sharing amongst various domestic and international participants. It is expected not only to enhance the stature of Varanasi but also add even more heritage to the world's oldest city.
Speaking on the occasion of World Tourism Day, Mr. Katsuo Matsumoto, Chief Representative, JICA India, said, "India is a diverse destination for tourism experience, we are aligned with the Government's initiatives to enhance tourism within the country. JICA is making continuous efforts to boost domestic tourism and to attract international tourism in India. Our projects work towards boosting tourist service infrastructure and environmental sustainability in the country by imbibing best tourism practices from Japan."
The holistic tourism experience involves ensuring safer and faster mobility, cleanliness, tourism services and infrastructure development. In this regard, JICA is contributing towards the metro projects in six cities increasing end to end solution of transportation. It is also closely working with Swachh Bharat Mission through its project Yamuna Action Plan Project and Ganga Action Plan Project in terms of reduction of pollution load in the rivers, increasing the aesthetics of the area and providing better experience to local population and foreign tourists.
JICA's efforts towards India's tourism sector have garnered national as well as international appreciation, accrediting Japan's best practices to promote tourism attractiveness and competitiveness in India.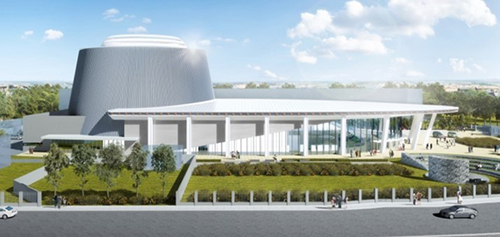 The Graphical Representation of VCC building at Varanasi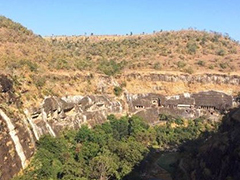 Ajanta Caves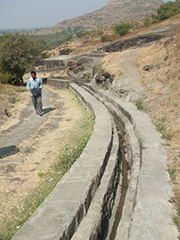 Measure for flowing surface water at Ellora
About JICA
Established by a specific law as an incorporated administrative institution under the Government of Japan, the Japan International Cooperation Agency (JICA) aims to promote international cooperation as the sole Japanese governmental agency in charge of ODA implementation. JICA is the world's largest bilateral donor agency. JICA works as a bridge between Japan and emerging countries, and provides assistance in the form of loans, grants and technical cooperation, so that the emerging countries can strengthen their capabilities.
For further information, please contact:
JICA India Office
Yuko Shinohara/Vini Sharma
+91 11 49097000
Shinohara.yuko@jica.go.jp
Sharmavini.id@jica.go.jp