Hyderabad, October 30, 2019: Japan International Cooperation Agency (JICA) held the 8th Edition of the 'IIT Hyderabad - Japan Collaboration Academic Fair' organized under the JICA-FRIENDSHIP Project. The purpose of the fair is to introduce a clear vision of career in Japan to the Indian Institute of Technology- Hyderabad (IIT-H) students including study environment, career opportunities, and life in Japan. Faculty and staff members of prestigious Japanese universities, such as University of Tokyo, Hokkaido University, Ritsumeikan University, Shimane University, Shizuoka University, amongst others came to recruit IIT-H graduates and expected graduates for their Master/Doctoral Programs.
Invited as the Special Guest Speaker for this years' occasion, Dr. George Kimura, President and CEO, NTT Advanced Technology Corporation, made special remarks on technology innovation and human resources in the future. The fair was attended by more than 220 students who received energetic and encouraging messages from Dr. Kimura and other speakers. IIT-H students also proactively visited Japanese Universities' information booths to seek their academic career in Japan.
During the Fair, JICA announced the scholarship program for IIT-H students to study in internationally renowned universities of Japan. These Scholarships will be offered to 30 graduating students of IIT-H to pursue masters or Ph.D. and will cover tuition fees and living cost in Japan. Since 2012, 116 IIT-H graduates have received the scholarship from the JICA-FRIENDSHIP project, and 10 students obtained master degree and 30 students obtained Ph.D from Japanese universities. Among these students, several joined in famous Japanese companies, esteemed Universities and Research Institutes.
Speaking on the occasion, Mr. Katsuo Matsumoto, Chief Representative, JICA India said, "The ties between India and Japan is getting stronger year by year and the people of two nations are also getting closer. I believe IIT Hyderabad and JICA's effort to encourage Academia-Industry network between India and Japan have achieved certain contribution to enhance relationship between the two countries. I am proud that JICA is investing this unique initiative for the future of both nation. This scholarship program invite IIT-H students to the top of R&D in Science and Engineering, and further opportunity of challenge in Japan. "
The JICA-FRIENDSHIP project initiated in 2012 to facilitate the development of a research network between institutes of higher education and industrial clusters in Japan with IIT-H that would lead to excellence in education and applied research in science and engineering.
JICA is also extending integrated support to IIT-H through ODA (Official Development Assistance) loan of 23,035 million Japanese yen (approximately INR 1,500 Crore) for IIT-H campus development. JICA's support is facilitating the development of International Guesthouse, Sports & Cultural Complex, Technology and Incubation Park, Convention Centre, Research Centre Complex, and Knowledge Centre, procurement of high-end laboratory equipment in IIT-H permanent campus.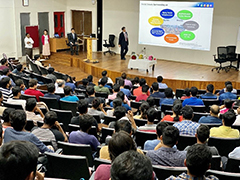 Students of IIT-H, while attending the presentation by Dr. Kimura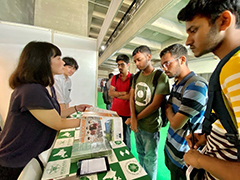 Japanese universities promoted studying in Japan in the Academic Fair.
About JICA
Established, by a specific law, as an incorporated administrative institution under the Government of Japan, the Japan International Cooperation Agency (JICA) aims to contribute to the promotion of international cooperation, as a sole Japanese governmental agency in charge of ODA implementation. JICA is the world's largest bilateral donor agency. JICA works as a bridge between Japan and emerging countries, and provides assistance in forms of loan, grant and technical cooperation so that the emerging countries can strengthen their capabilities.
For further information, please contact:
JICA India Office
Yuko Shinohara/Vini Sharma
+91 11 49097000
Shinohara.yuko@jica.go.jp
Sharmavini.id@jica.go.jp