Tokyo, Japan, November 18, 2019: Under the ongoing Technical Corporation (TC) Project 'Capacity Development on Railway Safety', which aims to enhance the capacity of Indian Railways (IR) and Dedicated Freight Corridor Corporation of India Limited (DFCCIL). Japan International Cooperation Agency (JICA) invited officials from IR and DFCCIL to attend the Knowledge Co-Creation programs, focusing on Track Maintenance, Rail Welding and Rolling Stock Maintenance conducted during October and November, 2019.
In order to improve railway safety including derailment prevention, the interaction between the terms of rolling stock, track and the structural & material strength of the components are considered highly essential. These Knowledge Co-Creation programs organized by JICA have been showcasing Japanese good practices of construction and maintenance work, shared Japanese knowledge and experiences relating to preventing derailment including the efficient but qualitative maintenance work. While in Japan, Indian officials visited West Japan Railway Company, Railway Track and Structures Technology CO., LTD. (Rail Tech), Railway Technical Research Institute, Japan Freight Railway Company etc. After the detailed explanation and demonstration of various aspects by Japanese experts at each working site and facility, Indian officials shared their views and approaches with Japanese experts through detailed interactive discussions.
Speaking on the occasion Dr. Makoto Ishida, Chief Advisor JICA expert team who led these Knowledge Co-Creation programs said, "JICA expert team and Indian officials had detailed interactive discussions with regard to maintaining the quality of rail welding and examination work and effective track maintenance works under short window time of track possession, and maintaining the quality of truck/bogie and/or running gear maintenance work. During these programs, Indian officials have developed draft Action Plans to improve quality of maintenance work in respective fields regarding technical, structural implementation and mind set point of view based on detailed discussions at sites between Indian and Japanese officials. It is hoped that these program in Japan would contribute to bring the safe environment with the help of the functionally useful Action Plans prepared in promoting railway safety in India."
This TC project would continue to be implemented during the next one year's time, wherein Indian officials and JICA expert team would be jointly working for improving the safe railway operations.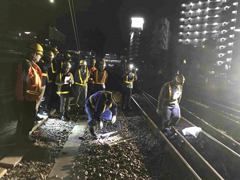 Track possession work during window time: efficiency of work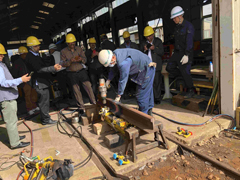 Rail welding work: quality of work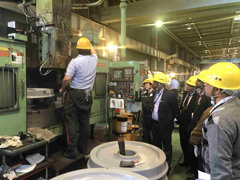 Axle bearing polish: quality of maintenance
About JICA
Established, by a specific law, as an incorporated administrative institution under the Government of Japan, the Japan International Cooperation Agency (JICA) aims to contribute to the promotion of international cooperation, as a sole Japanese governmental agency in charge of ODA implementation. JICA is the world's largest bilateral donor agency. JICA works as a bridge between Japan and emerging countries, and provides assistance in forms of loan, grant and technical cooperation so that the emerging countries can strengthen their capabilities.
For further information, please contact:
JICA India Office
Yuko Shinohara/Vini Sharma
+91 11 49097000
Shinohara.yuko@jica.go.jp
Sharmavini.id@jica.go.jp